Monterey, Calif. (23 September 2017) – VISIT FLORIDA Racing returned to IMSA WeatherTech SportsCar Championship action for its second event with the team's new No. 90 VISIT FLORIDA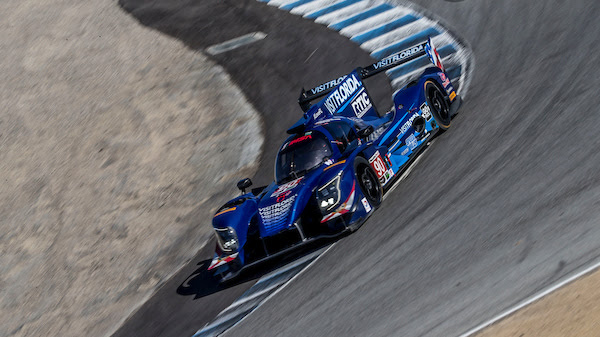 Racing Gibson-powered Ligier JS P217 at Mazda Raceway Laguna Seca and the team was right up to speed with the new platform. Marc Goossens and Renger van der Zande combined to post times within the top-five in each and every practice session of the weekend ahead of Saturday's qualifying run that saw Goossens secure third on the grid with a time of 1:17.730-seconds.
The No. 90 VISIT FLORIDA Racing Gibson-Ligier JS P217, which was just five hundredths off of a spot on the front row, will start on the inside of Row 2.
"Everybody seems to think that being on the inside for the start is a little bit of an advantage and I think it is – all the other guys around me are DPis and they seem to have a little better torque so when it goes green, I just hope I have the same speed as them going into Turn 1," said Goossens. "Being on the inside might help there but we'll have to wait and see. The car is getting a lot better. We still keep learning every session and we just keep improving. I don't think that we had much more than what we
had today, but I think all in all the team is doing a great job and we have a lot of support from the Ligier engineers."
Despite having limited time to prepare the car for the California round due to flooding at the team's race shop, the team was third quick in the very first practice session of the weekend on Friday.
"It is good motivation and reward for the VISIT FLORIDA guys and their families with what they went through with the hurricane to come here and be competitive," added Goossens. "I dedicated my podium in Europe to everyone in Florida and I'll do the same with this third place qualifying result. I think they had enough time to prep the car, but everyone definitely had a lot on their minds. I just enjoy being with the VISIT FLORIDA Racing team, we're all focused in the right direction, we just have to go and get it."
Team Owner Troy Flis is proud of team's effort and looking forward to the 2 hour and 40 minute race on Sunday.
"It was a good run and I think we could have had even a little bit more," said Flis. "I am really happy with how Marc (Goossens) performed. I think we have a car that is competitive to run in the top-three. Hopefully if we get a little bit of luck we can pull something out here tomorrow in the race."
The America's Tire 250 at Mazda Raceway Laguna Seca goes green at 2:05 PM (5:05 PM ET) and will be televised LIVE on FS1 beginning at 2:00 PM (5:00 PM ET).