DAYTONA BEACH, Fla. (23 January 2020) – Finding the balance in rapidly changing conditions at Daytona International Speedway, Stoner Car Care Racing fielded by Orlando-based Automatic Racing put its pair of Aston Martin Vantage GT4s solidly in the field for Friday's four-hour BMW Endurance Challenge at Daytona, race one of the 2020 Michelin Pilot Challenge (IMPC) season (Friday, 12:00pm ET, TrackPass on NBCS Gold).
Part of the IMSA WeatherTech SportsCar Championship's Rolex 24 At Daytona weekend, the BMW Endurance Challenge is the longest race on the 2020 IMPC series schedule and offers much at stake for the hometown favorites – including the hopes of eclipsing its second place finish last year.
Debuting the new Stoner Car Care livery for the No. 09 Aston Martin on Wednesday, the team chose to sit both cars out during the wet first practice session. Tricky conditions greeted the team on Thursday morning, with a rain shower just prior to morning practice that drenched the 3.56-mile combination road course/oval, making Michelin rain tires a must. The track was drying quickly ahead of a quick warmup prior to qualifying, though both qualifying drivers had to negotiate the remaining puddles during their short, 15-minute session.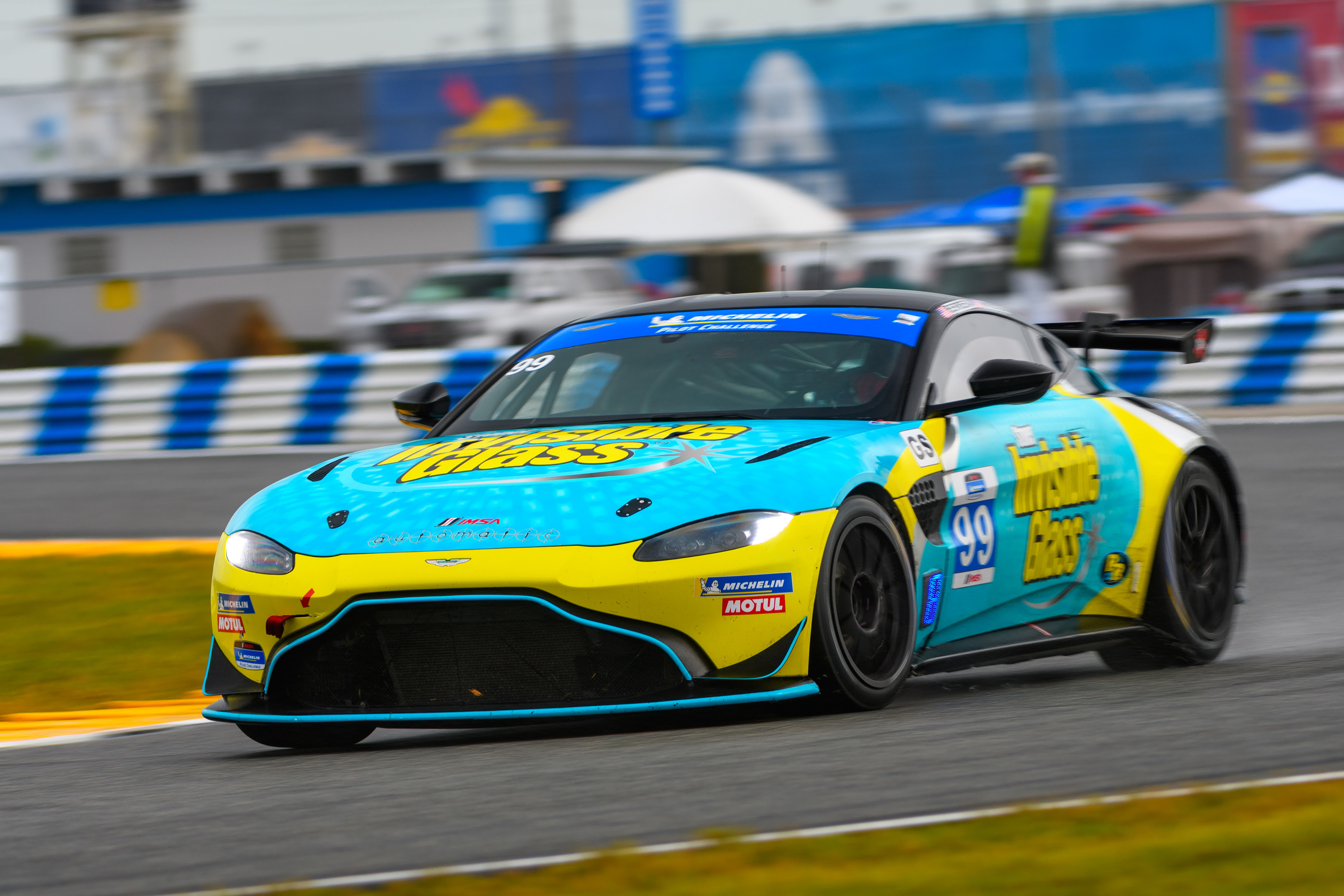 The driving trio of Rob Ecklin Jr., Ramin Abdolvahabi and Brandon Kidd returns to Daytona in 2020 behind the wheel of the No. 09 Aston Martin.
Ecklin qualified the car with a quick time of 1:55.628-seconds with only the warmup under his belt. He was happy with the setup of the car right out of the truck though disappointed with his P21 starting position.
"The car feels so good – it's a really good race car," said Ecklin. "As soon as I got the feel of the car in the changing weather conditions, it just got faster and faster. This is a very high-speed track, so you have to know the dry line. I'm a bit disappointed, because I could feel both myself and the car coming in at the end of qualifying, but it's a long race. Daytona is a big track, so traffic isn't as big a concern. I think we've got a top 10 car, if everything comes together. We have the same three drivers as last year, in the same stint order, so we know what to expect."
Drivers Kris Wilson and Gary Ferrera, who paired up in five races with the team last season, look forward to taking the green flag at the "World Center of Speed" – the site of their first podium together last season. Ferrera qualified the No. 99 Aston Martin in 29th position with a lap of 1:56.906-seconds.
"The car was fantastic," said Ferrera. "It was just the transition going from wet conditions and rain tires in practice to slick tires and a mostly dry track during qualifying that took a few minutes to get used to – which is difficult in a 15-minute session. But the track griped up quickly and I was able to get on it as long as I stayed away from the puddles. I just wasn't driving to my max ability, which is disappointing. But we've got 24 hours to work on a strategy to take us to the front – Kris has already told me that we've done second place, that won't be good enough this year!"
For team manager David Russell, having a large contingent of family and friends only adds to the enjoyment of the weekend.
"This is a big event for the series and the big event for us, right out of the box," said Russell. "There's extra pressure being the one of the few hometown teams so we'll do everything we can to be prepared as possible tomorrow. We have two sets of drivers this weekend, one that ran the Roar and one that didn't, but Rob, Ramin and Brandon are seasoned guys, so they'll be fine. We got a little bit lucky last year but we called a good strategy, so I was very proud of the team. This is such a competitive series, but this place is a bit of an anomaly as tracks go, so we'll whittle away at it the best we can."
The BMW Endurance Challenge takes the green flag Saturday at 1:00 p.m. Eastern. The race will be broadcast live in the U.S. on NBC Sports Gold's TrackPass, while international viewers can watch via 
IMSA.tv
. IMSA Radio will also be available at 
IMSA.com
.
About Invisible Glass
Automatic Racing sees their way to victory with Invisible Glass, the top-selling automotive glass cleaner in the United States. The Invisible Glass product line includes aerosol and spray bottle cleaner, Invisible Glass with rain repellent for windshields and wiper blades. Find more online at https://www.invisibleglass.com/
About Stoner Car Care 
Stoner Car Care produces high-performance car washes, waxes, polishes, and dressings for auto enthusiasts and car care professionals. The Stoner Car Care line-up includes Invisible Glass, America's #1 Automotive Glass Cleaner, along with many other appearance products. Whether driving, washing or waxing, Performance Matters! Stoner car care proudly formulates all of our product since 1942
About Automatic Racing
Based in Orlando, Automatic Racing is one of the longest-running teams in the paddock, forming in 2001 and competing in all but one of the 11 MICHELIN Pilot Challenge races at Daytona. The team has been developing, preparing and racing the prestigious Aston Martin Vantage GT4 since 2012. Automatic Racing won the 2017 MICHELIN Pilot Challenge title.