DAYTONA BEACH, FL (26 January 2020) – Rebel Rock Racing returned to Daytona International Speedway to take a 13th-place finish in Friday's BMW Endurance Challenge, the opening race of the IMSA Michelin Pilot Challenge campaign.
Frank DePew, Robin Liddell and Andrew Davis shared the No. 71 Urban Grid/MVP Capital Chevrolet Camaro GT4.R in a race which saw all three drivers up in the top 10 at some point during the four-hour event.
The result was a turnaround from the 2019 event, which saw the team complete only two laps in a 49th-place overall finish. After that slow start in Daytona, the team rebounded to win two races and finished eighth in the final 2019 IMSA Grand Sport standings.
Friday, DePew drove a smooth opening stint. Starting 30th, he passed his way up to the 24th position before the first round of pit stops. DePew pitted on the 23rd lap from third overall as the field cycled through pit stops. Turning the car over to Davis, DePew was happy with how the opening segment of the race played out.
"All I could do was to be patient, concentrate on driving the car to the best of my ability in order to run the lap times to catch the guys in front of me," DePew said. "I didn't qualify well, but I got in there and got the positions back that I should have had when I qualified. It wasn't easy. There were a lot of cars, and it was a melee out there. Also, a number of cars had better top speed, so even if I had a run on a car out of a corner, they could drive away from me on the banking. But it was definitely a lot different than last year and compared to 2019 it was much better than being in the race for only seven minutes!"
Davis rejoined the race in 23rd after the green flag stop. He was running 12th when he pitted under caution at the midway point, rejoining the event in ninth.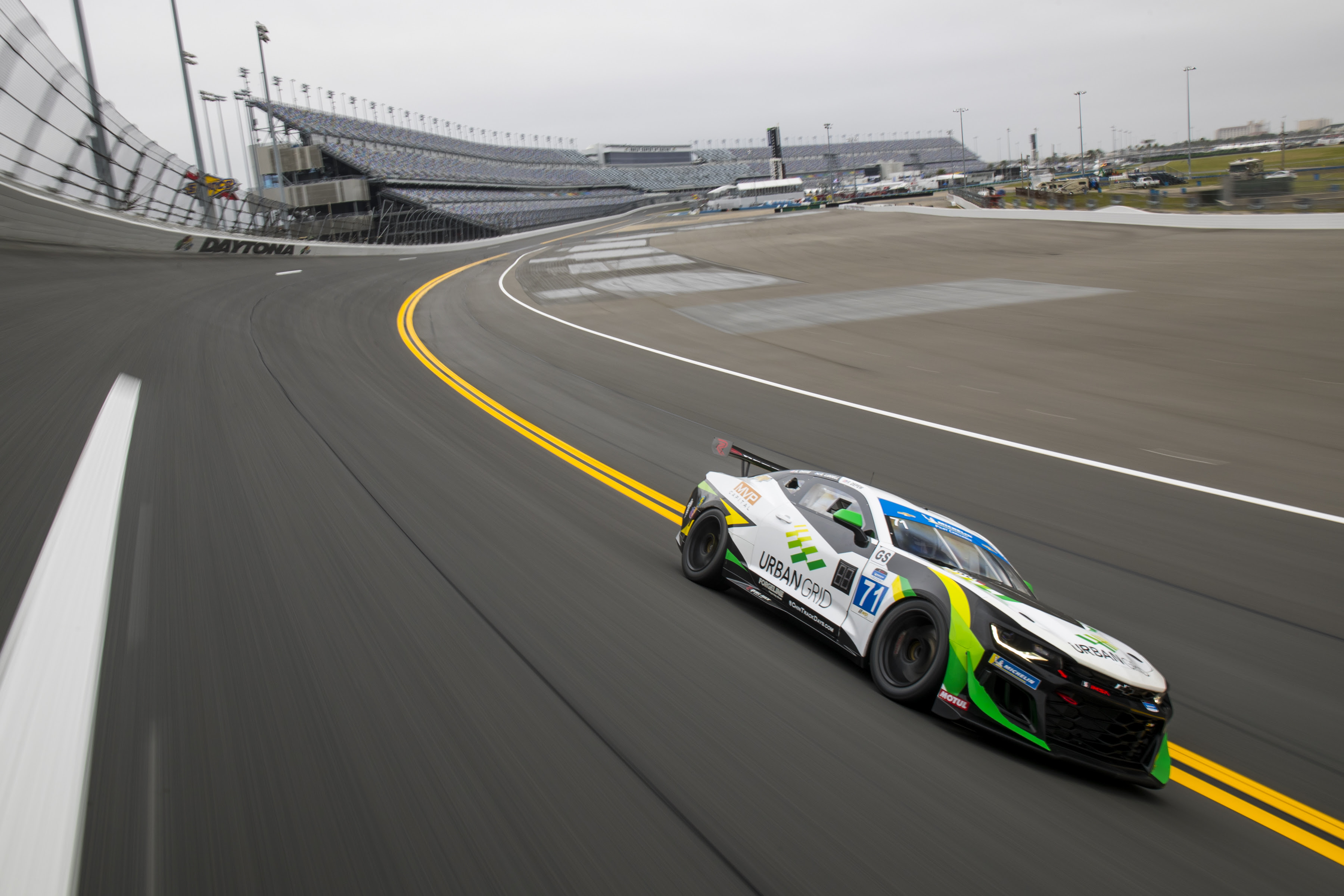 "I got out there and quickly came up to pace," Davis said. "I had clear track early and was able to make up some ground. When we came in on our next stop, we only took on two tires and fuel to gain some track position. That leap-frogged us up into the top 10. But I had a hard time keeping up on the latter part of my stint, and I had a hard time keeping the pace up on the banking."
Liddell took over and drove the final two hours, running as high as fifth but a lack of power gradually dropped the car back in the remaining hour.
"Overall I have to say I am very proud of the job that the Rebel Rock team did today," Liddell said. "It's the first time the GT4 Camaro has finished this four hour race at Daytona; in itself this was a credit to the crew and the preparation of our car. We ran a very clean race; good pitstops, the strategy was on point and the drivers all did a good job."
"Frank did a really great job in his opening stint and he did exactly what he needed to do – it was perfect," Liddell added. "It's been a difficult weekend; we had a new engineer who arrived on Wednesday night and we were off and running on Thursday morning. Frank had limited dry running before qualifying – so there were a number of challenging circumstances, but overall the team did a great job."
DePew and Liddell return to action on Thursday, March 19, with a two-hour race at Sebring International Raceway.
"We're pretty happy," DePew said. "We've pretty much got the same crew here and the same drivers. The only change we have is in engineering, we've got a Pratt & Miller engineer with us for the season. I'm looking forward to the next race at Sebring – I know Sebring a lot better than I do Daytona!"
Now, the team returns the Urban Grid/MVP Capital Camaro to its shop at nearby DeLand, Florida – 15 minutes from the Speedway. Liddell, who doubles as the team's general manager, is ready to get back to work.
"We had a lack of pace and a lack of performance on the banking in particular and clearly we need to find a solution", Liddell said. "Overall, however I am super proud of the team and the job that they all did. Despite some tricky circumstances, we executed very well and I think we are in good shape for the rest of the season."
Additional updates via:
http://rebelrockracing.co
https://twitter.com/rebelrockracing
https://www.instagram.com/rebelrockracing/