LAKEVILLE, CT (16 July 2022) – Pit strategy by the Rebel Rock Racing crew and a solid opening stint by Frank DePew put the No. 71 Urban Grid Chevrolet Camaro GT4.R in contention in Saturday's Lime Rock Park 120. Robin Liddell took care of the rest, charging down the stretch to take the team's first IMSA Michelin Pilot Challenge victory of the season.
Running five seconds behind the leader with 30 minutes remaining in the two-hour race, Liddell needed nearly 20 minutes to catch leader Kyle Marcelli. After briefly taking the lead in the opening set of turns on lap 101, Liddell took the lead entering No-Name Straight on the following circuit with 10:30 remaining – and pulled away for the victory.
"The Chevrolet Camaro is a great car at Lime Rock, and it's great to get back on the top step," Liddell said. "Kyle Marcelli and I have had a lot of great battles over the years. I had the better tires, and once I caught him, I was able to get by and pull out a small gap."
DePew started 16th and ran a solid opening stint. He was 15th when the caution waved for the first time. He elected to wait several laps to satisfy his minimum driving time, and was 10th when he pitted to turn the Camaro over to Liddell.
Liddell took over in 11th, and worked his way up to fifth when he pitted under green with 57:30 remaining. While that shuffled him back to 25th overall and 15th in class, a crash brought out a second full-course caution only two laps later.
That promoted Rebel Rock to fourth when the race restarted with 33 minutes remaining. Then, Liddell's charge began – picking up where the team left off with back-to-back fourth-place finishes at Watkins Glen International and Canadian Tire Motorsport Park.
"The team did a great job, and everything went swimmingly," DePew said. "Our pit stops were flawless. I knew we had a good car, and Lime Rock is a tough track to pass. I gained a position at the start, and then I just tried to hold my position and not get into any tussles. I got the car to Robin, and the team did a great job with strategies. We came in and took on two new left-side tires for the end, and Marcelli's team didn't. We let the race come to us, and Robin did an amazing job."
DePew and Liddell completed 114 laps on the tight 1.478-mile circuit, taking the checkered flag by 2.951-seconds – the team's first victory since winning at Sebring early in the 2021 campaign.
"This feels great to win, the team did an outstanding job and Frank drove really well, really smart, and we were able to push to the front at the end so I'm really happy with this result," said Liddell.  It feels so good to win against a field that is this strong, with all of the effort that the team puts into being prepared to deliver like today,"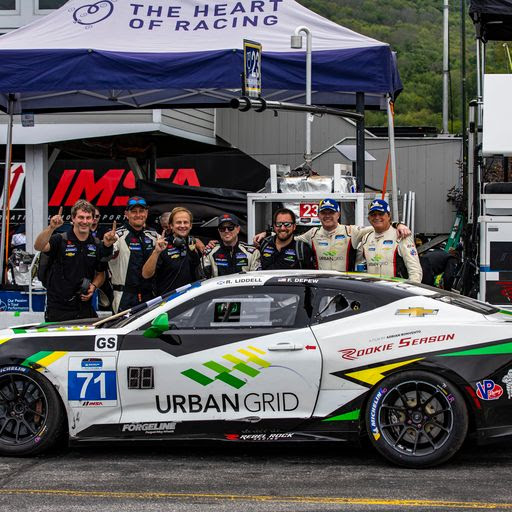 The return to victory lane capped a three race string that has seen Rebel Rock Racing score three top-five finishes on the trot.
"I felt quite strongly that these past three events were our best opportunity for a result, and we've had, three good results from three good races," said Liddell. "And I was just saying to Frank, before this win this weekend that he's been doing exactly what we need him to do in the car, and that is so critical not only to results like this, but also to being able to consistently bring strong points finishes. It is quite gratifying to have days like this, no doubt."
Only three races remain on the 2022 schedule. Next up will be a four-hour race at Road America on Saturday, August 6, the scene of Liddell's thrilling last-lap charge to victory in 2019.
Additional updates via:
http://rebelrockracing.co
https://twitter.com/rebelrockracing
https://www.instagram.com/rebelrockracing/
Media Contact: 
Maddie Komar
maddie@sundaymanagement.com