Rolex 24 at Daytona will be the first of two home races for the Florida-based LMP3 team, as the team debuts a new lineup for Daytona
JUPITER, Fla. (6 January 2023) – Sean Creech Motorsport (SCM) aims one step higher in 2023, hoping to convert the knowledge gained from two straight second-place finishes in the Rolex 24 At Daytona into a victory in the legendary endurance classic (Saturday, January 28 at 1:30 p.m. Eastern, NBC).
The team returns to WeatherTech SportsCar Championship action with drivers Lance Willsey and João Barbosa behind the wheel of the No. 33 SCM Exelixis/Focal One/Jerich International Ligier JS P320 for the full season. Joining the duo at Daytona will be Nico Pino, who was part of the team's third-place finish at last year's season finale Motul Petit Le Mans at Road Atlanta. Young Texan Danny Soufi will make his IMSA debut with SCM as the fourth member of the 24 squad.
With several options for its endurance lineup, SCM tested drivers at Daytona in mid-December, with Soufi making the final roster alongside Pino. But no matter their experience level, all four drivers know the name of the game: keep the car on track and be in contention as the grueling contest enters its final hours.
Willsey will also compete in the inaugural VP Racing SportsCar Challenge, which will hold two 45-minute races on the Roar weekend. The series offers the team a chance to get race ready as quickly as possible.
"The VP series time gives me seat time and racing time, and frees up time in the WeatherTech car," said Willsey, who will compete in his 13th Rolex 24. "So my goal at the Roar is to confirm that the car is still as good as it was at the test last month. We had good pace at the test so I hope to be out there fighting for a podium or more in the VP series. From there, it's about getting the drivers their laps and then getting all the little things that no one sees checked off the list.
"Coming into a race like this, the team is important, and the lineup is important," Willsey continued. "But at this level, every team is good, every lineup is good. It comes down to who creates a little bit of good luck and who gets a little bit of bad luck. I'm confident that we have a competent and potent driver lineup and the best crew in the paddock, so if we all do our job, from top to bottom, good things will happen."
Clearly, the young drivers will not have to look far for guidance and information. Barbosa has captured four Rolex 24 victories in his career, with three pole positions, and has contested an incredible 13,371 laps in the race – 93% of the total race laps possible.
"We have a very young lineup – not counting Lance and I, of course!" said Barbosa. "They're both very talented, and it's great to showcase the up-and-coming drivers. Nico has a great deal of experience in these cars and he did a great job for us at Road Atlanta. Danny doesn't have a lot of experience but he demonstrated a great deal of talent and maturity at the test last month – not just in lap times, but also in his approach. He'll have plenty of guidance and time to get up to speed at the Roar."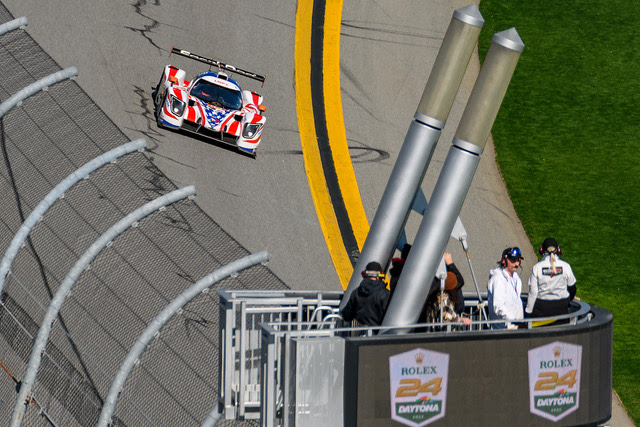 Pino, 18, has a great deal of experience behind the wheel of the Ligier. The young Chilean raced in his first Rolex 24 last year then went on to finish second in a hard-fought European Le Mans Series LMP3 championship. Joining SCM for the season finale at Road Atlanta last year, he helped the team cap its season with a podium finish.
"I'm looking forward to working with the team again," said Pino. "It helps having done the race with them last year, so I know their philosophy and I know what to expect. I look forward to continuing to improve in the car. Having experience at Daytona from last year, I ready to face the challenge of the 24. The priority at the Roar is to get comfortable with the car and have everything as perfect as possible ahead of the race weekend."
Raised in Austin, Texas, Soufi, 19, started racing at the age of 8, eschewing the typical karting route for drifting and rally cross. He quickly turned to spec Miata racing, capturing multiple championship titles. Heading to Europe last summer, Soufi earned the notice of renowned driver and team owner Franz Konrad, earning a test with the team. He then finished off the Prototype Cup Germany season with Konrad Motorsports, with three top-10s in four races.
"The entire SCM team is fantastic," said Soufi. "I really appreciate the opportunity to test with the team, and now to be driving with them in the 24. This is a huge step in my career so massive thanks to Lance, Sean and the whole team.
"Getting on track at that test was a great learning experience. The first lap on the banking was pretty intense, but I'd set out a goal of being clean and being quick, and everything worked out. I had good pace so I want to replicate that with every stint in the 24. Going into the Roar, I want to figure out the best racing line with all the other cars on track. The biggest thing will be to get used to the traffic – the pace is there, so just chase down a little bit of lap time and be clean."
With over 30 years of sports car racing in his background, team principal Sean Creech knows what it takes to succeed at Daytona.
"We'll have more time to test things in the VP series, but the track is different every time we go there," said Creech. "We tested in December and the car was good, but who knows when we roll out at the Roar – and it will change again between the Roar and the 24. But we have a good deal of experience at Daytona on this team, which will help both Danny and Nico. We'll work on getting Danny up to speed – getting used to spotters, to pit entry and exit protocols. That's what hurt us last year, two pit lane penalties, so the Roar weekend is the time to work on all those procedures."
"Lance and I have known each other for many years and we had several successful races together at Daytona," said Konrad. "Konrad Motorsport is very happy to get Jerich International onboard to return to Daytona and to have the chance for young Konrad Motorsport driver Danny Soufi to start for SCM."
SCM thanks partners Exelixis, Focal One and Jerich International for their continued support.
The Roar Before the Rolex 24 will see more than seven hours of practice time over three days, with qualifying for the Rolex 24 Sunday, January 22 at 1:50 p.m. Eastern, streamed live on Peacock TV.
The Rolex 24 at Daytona takes the green flag Saturday January 28 at 1:40 p.m. Eastern. The race will be broadcast live in the U.S., on the NBC family of networks. International viewers can watch via IMSA.tv, with IMSA Radio also available at IMSA.com.