Starts from pole, leads first F2 lap, scores first top ten and looks forward to Albert Park debut
JEDDAH, Saudi Arabia (19 March 2023) – Racing in the FIA Formula 2 Championship for only the second time, Jak Crawford recorded several milestones this weekend – his first reverse pole, first top ten result, and first time leading both a Sprint and Feature event in action at the Jeddah Corniche Circuit.
The F2 championship runs on Formula One weekends, and the visit to Saudi Arabia marked the first time that the 17-year-old Texan had competed on a street circuit as he had two key goals for the weekend: "Be patient and be calm."
The Red Bull Junior Team driver did exactly that as he checked off several F2 firsts on his way to ninth and 15th place finishes as he delivered a strong showing for Hitech Pulse-Eight Racing.
"It was a pretty crazy weekend, for my first time on a street course," Crawford said. "The track was amazing, and honestly, it's my new favorite track. It was fun to drive, especially in qualifying."
After an uneventful practice session, Crawford came on strong in Friday's 30-minute qualifying. Running 18th after an early fast lap, he then pitted twice. Crawford returned to the track for an early attempt with 11:15 remaining, and got a fast lap of 1:42.553-seconds that put him fifth fastest. He cooled his tires for another fast attempt – falling to 10th in the meantime – but a red flag with two minutes remaining ended the session.
"We struggled on the first run in qualifying," he explained. "I made big steps in driving on the second run, and I think I did a really good lap. We didn't quite have the pace in the car this weekend, but I was able to put out a really good lap."
His best lap was good for 10th –putting him on the pole for Saturday's 20-lap Sprint race, which inverted the top-10 qualifiers.
"I never thought I'd be on the pole in my first two F2 weekends, so I'm really excited," Crawford said after qualifying. "We had good race pace in Bahrain, so I'm excited to start up at the front."
Crawford got off to a good start for the Sprint race, leading the opening lap, but fell to second near the beginning of Lap 2. He was fifth at halfway, and lost two positions on the final lap to take ninth – marking his first top ten in only his third F2 race.
"I think we just missed the balance in the Sprint race," Crawford said. "We also struggled a bit with tire warmup, so we were off with all the safety cars. It was a tough race, mentally, going backwards, which made it tough. Finishing ninth was a shame, because we started pole, but we really didn't have the pace to stay with the guys up front."
Sunday's Feature event saw Crawford gridded 10th. Joining the other front-runners in starting the race on a super-soft tire compound, he had gained a pair of positions in the early going, and then moved to take the lead as the various tire strategies played out with teams having two compounds to use during the Sunday Feature. After a spot on lap eight for medium-compound tires, Crawford returned to the race in 15th, and was up to 14th by lap 10. He had several good battles throughout the remainder of the race, running 15th for the final 10 laps leading to the checkered flag.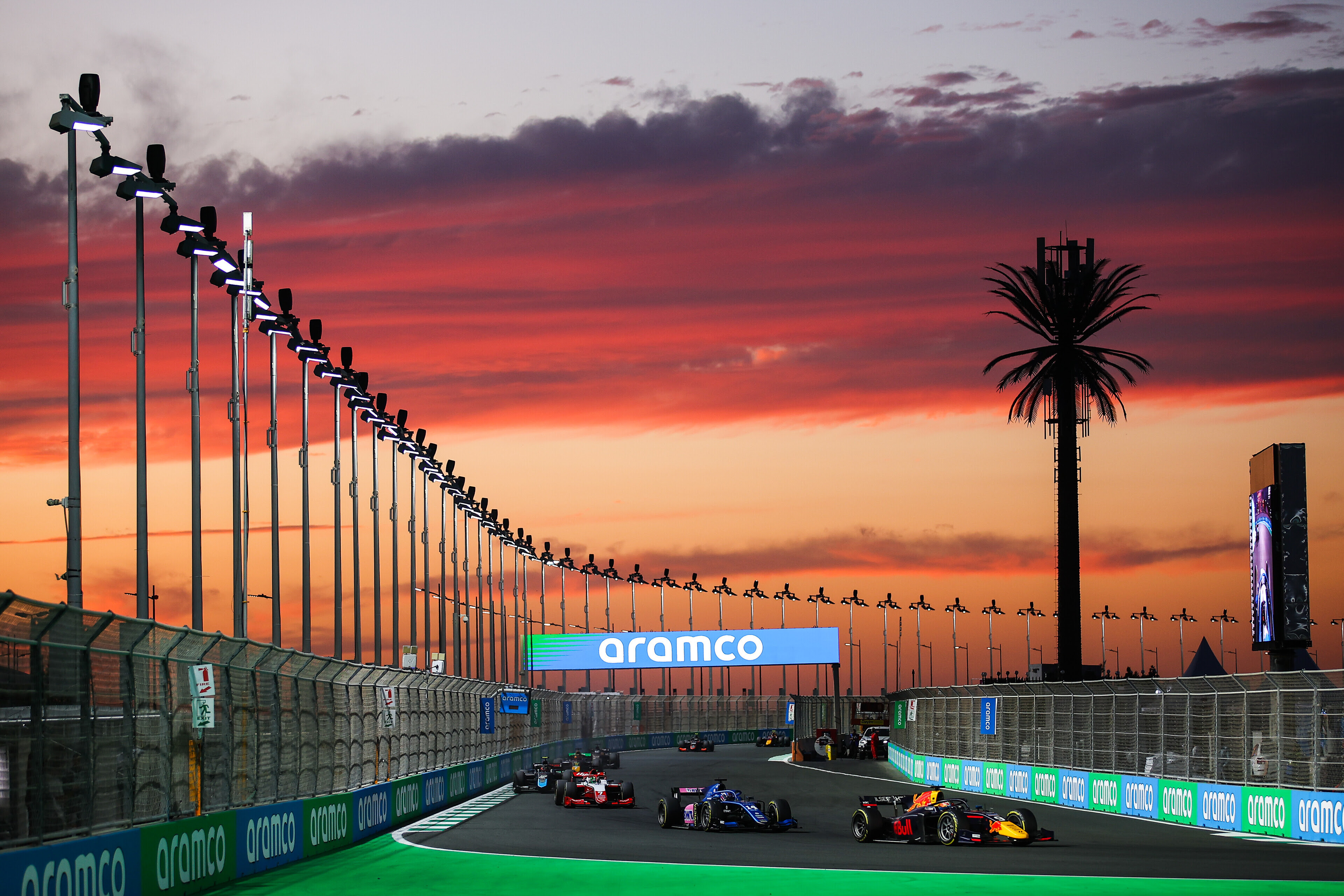 "Today I had a really good first lap, and we had a really good super-soft stint," Crawford said. "Everything was looking good, but then after the pit stop when we went to medium tires I got into quite a few battles and really hurt the tires early in the stint. I wasn't able to recover the tire life until the very end, and by then it was too late and all the damage had been done. We definitely could have scored points today, but didn't quite have the pace for the top guys."
Crawford gets another opportunity to tackle a street circuit when F2 returns to action in two weeks – making his first visit to Melbourne, Australia to compete at the Albert Park Grand Prix Circuit on April 1-2.
"I've driven this track on the sim a couple of times, and the track looks really fun," he said. "I'm looking forward to go to Australia for the first time and experience the country itself. I'm also super-eager to get back racing. I feel I have a lot more to show."