Breakthrough weekend in challenging conditions
ZANDVOORT, Netherlands (27 August 2023) – American Jak Crawford had a weekend of FIA Formula 2 Championship firsts at Circuit Zandvoort, capturing his first pole position and first podium finish in a Feature Race.
The 18-year-old Red Bull Junior became the third-youngest pole winner in F2 history on Friday  before finishing a very close third in the Sunday race.
"I'm over the moon," the Texan exclaimed after qualifying, when he gave Hitech Pulse-Eight its first F2 pole of the season. "It was really an amazing weekend for us, for me and the team. Qualifying and the races, we had the quickest car, and I was driving really well. It's a really good result, good points. We've never been up there in a Feature Race but it is still bittersweet to lose it like that when we were the dominant car to win."
He was third after his first push lap in qualifying, and then improved to the pole with a lap of 1:21.210-seconds with 20-minutes remaining in the half-hour session.
The competitors then pitted to change tires, and returned to the track in a group. However, Crawford was hit when a car pulled in front of him while he was exiting his box, forcing him to return to the pits for new front bodywork. Then. an incident brought out a clock-stopping red flag. The session was restarted twice, but a pair of additional red flags prevented anyone from posting a faster lap.
"It was a messy session, obviously," said Crawford. "We were quickest in the first run, and honestly, I think we could have been quickest in the second run, as well. I had a really good lap and then the red flag, but it was the same for everyone. Sure, there was more to improve, more to come on our second run. It would still have been really close. It was very stressful. We had amazing speed in the first run, and then when I came out for my second run I got run into, breaking my front wing. It was very tense, with all the red flags. But I still think we could have been on pole without the red flags."
Starting 10th on the inverted grid for Saturday's Sprint Race, Crawford was bumped off the track on the opening lap in treacherous raining conditions. That resulted in a red flag period, and an additional downpour led the race from being restarted and no points were awarded.
"Visibility was nothing, and I was punted off the track and I was just happy that everyone was OK," he said. "Those conditions are unacceptable to race in. It was a bit pointless, there were no points for that race and I DNF'd anyway. It was just too wet to drive."
Sunday's race started on a drying track with a chance of rain, with several drivers spinning in the opening laps. Crawford got off to a flying start, leading the opening eight laps before being called into the pits for his mandatory stop. The race went to caution, with the Texan losing a position on the exchange of stops.
"We made our pit stop, I had a really good out lap, and managed to keep a undercutting car behind," Crawford said. "In the next laps, I was overtaking cars on out laps and the pace was really good. We were on for the race win. Then there was a Safety car just as some guys were pitting and I got jumped under the Safety Car. It screwed our race completely."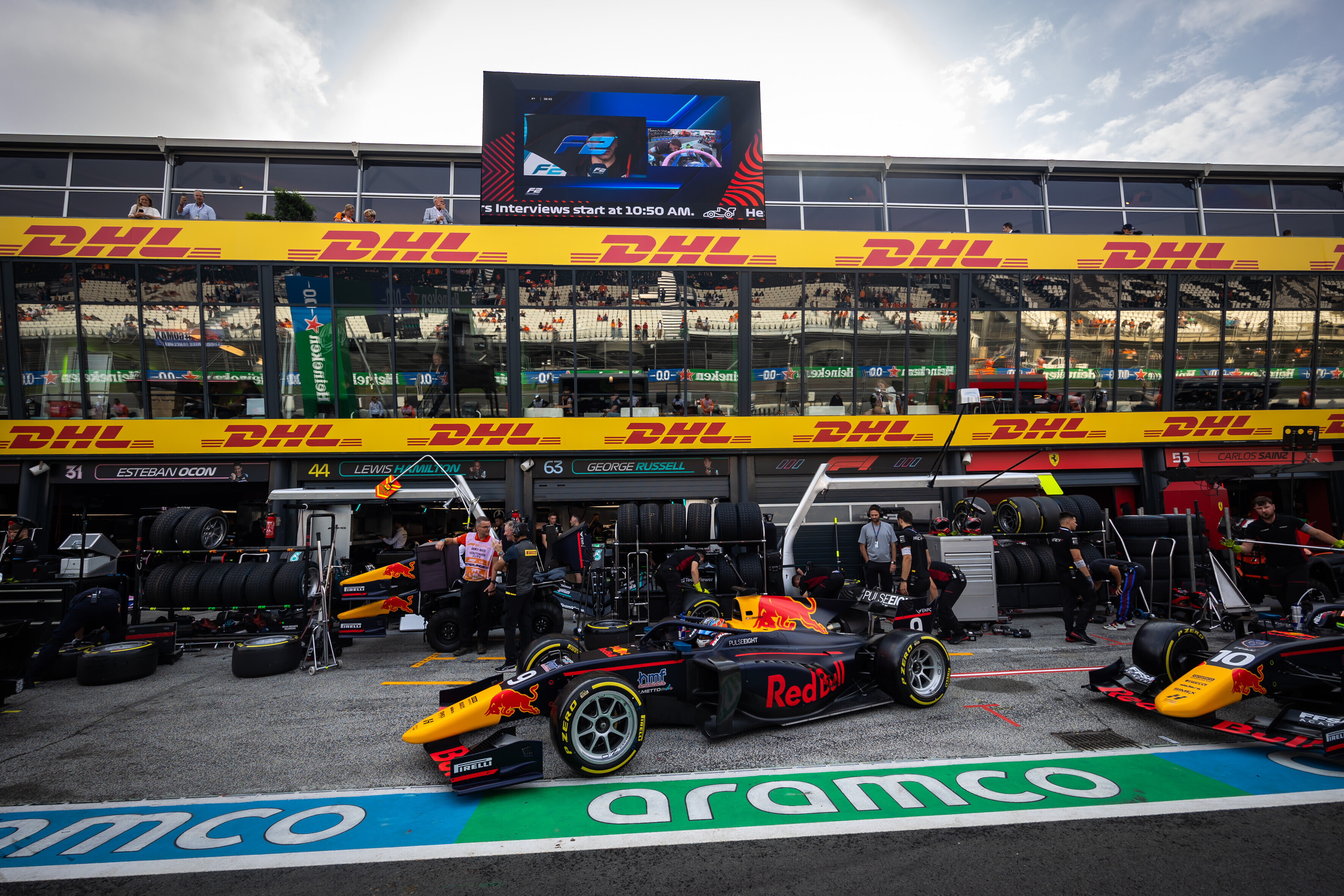 Crawford fell to third behind the third place car on the restart as the lead car nursed the corner so slowly. Then the second place driver lost pace with the leader as Jak was glued to his rear wing for most of the race, missing second at the finish line by only three-tenths of a second.
"I chose the wrong lane in turn one and lost a spot," he admitted. "After that, it was just a train – hard to follow, hard to overtake. That was frustrating, for sure. It's insanely hard to pass at this track. We run super-high downforce here, and you can't run close to anyone. There are a number of tight corners in a row, and the tires overheat very quickly."
There's little time to rest before the penultimate event of the season this weekend at Italy's historic Autodromo Nazionale Monza. Then there's a break before the 14th and final round of the season, at Yas Island in the United Arab Emirates on Nov. 25-26.
"I'm super-excited for Monza," he said.  "I hope we can carry all that momentum, from qualifying on the pole and almost dominating the weekend. Going into Monza, we will be looking to repeat that and carry on with that momentum."
Crawford is also hoping that his momentum will carry on to the 2024 campaign.
"This is a time when everything's going down with silly season, and this weekend definitely helps," he said. "It's absolutely perfect timing to do well, winning the pole and a strong run in the Feature Race. Absolutely perfect timing!"
Images via Red Bull Content Pool