ALTON, Va. (August 27, 2023) – Reigning Idemitsu Mazda MX-5 Cup presented by BFGoodrich® Tires Champion Jared Thomas (No. 96 JTR Motorsports Engineering) was declared the Round 12 race winner after an incident on the final lap led to a post-race penalty. He extended his points lead over teammate Aaron Jeansonne (No. 24 JTR Motorsports Engineering) who finished second.
It was difficult to keep up with the number of lead changes during the 45-minute race, which was somehow even more thrilling than Saturday's event. There was never a clear leader, instead a pack of 11 cars broke away from the field, running nose-to-tail.
At the front of the train, Gresham Wagner (No. 5 Spark Performance) and Connor Zilisch (No. 72 Hixon Motor Sports) traded the lead several times, with Max Opalski (No. 2 Copeland Motorsports), Nate Cicero (No. 83 McCumbee McAleer Racing) and Jeansonne taking their turns at the front as well.
With 10 minutes to go, the pack of 11 dwindled to a pack of seven. Michael Carter (No. 19 Saito Motorsports) and Thomas were waiting in the wings for anyone to make a wrong move.
Based on Saturday's finish, most expected the move for the win to happen in the final turn, but this time it happened several turns before. Carter, who was in fifth, bumped into the back of Jeansonne in the Rollercoaster and caused a chain reaction of hits up to the leader. This knocked Wagner, Zilisch and Opalski into the grass.
As Jeansonne scrambled to stay on track, Carter and Thomas sailed past. Jeansonne pulled it together just in time to hold off Cicero and crossed the line in third.
Race officials deemed Carter to be the instigator of the madness and handed him a drive-through penalty post-race, which effectively removed him from the podium and gave the win to Thomas.
"It was a hard-fought battle at the front," Thomas said. "The leaders were getting pretty dicey and I was hanging out, saving tires and waiting for the end. I ended up being in the right place at the right time. There was some contact at the end and I came across the line in second."
The win extends Thomas' lead in the MX-5 Cup point standings with only two more rounds to go. His nearest rival for the 2023 title and the $250,000 prize that comes with it, is teammate Jeansonne, who finished second.
"That was an interesting race," Jeansonne said. "Both of these races have been the hottest of the year. We had a strong backup car that we were able to put on pole yesterday. I ran toward the front all day and I tried to be smart and pick my spots and think about what I wanted to do for the last couple of laps. When I was told we were coming to the white flag, I knew I had to go for it. I got a push from behind going into Rollercoaster on the last lap. It moved a lot of people out of the way and shuffled things up. It was an interesting finish, but I'm really proud of the team and all the hard work they put in this weekend, so coming away with a good finish is awesome."
The podium was a relief for Jeansonne who had mechanical issues that ended his race early on Saturday.
"We've had a few bad-luck races, so it felt really good to stand on the podium again. It gives us a fighting chance going into the finale at Road Atlanta for the $250,000 prize."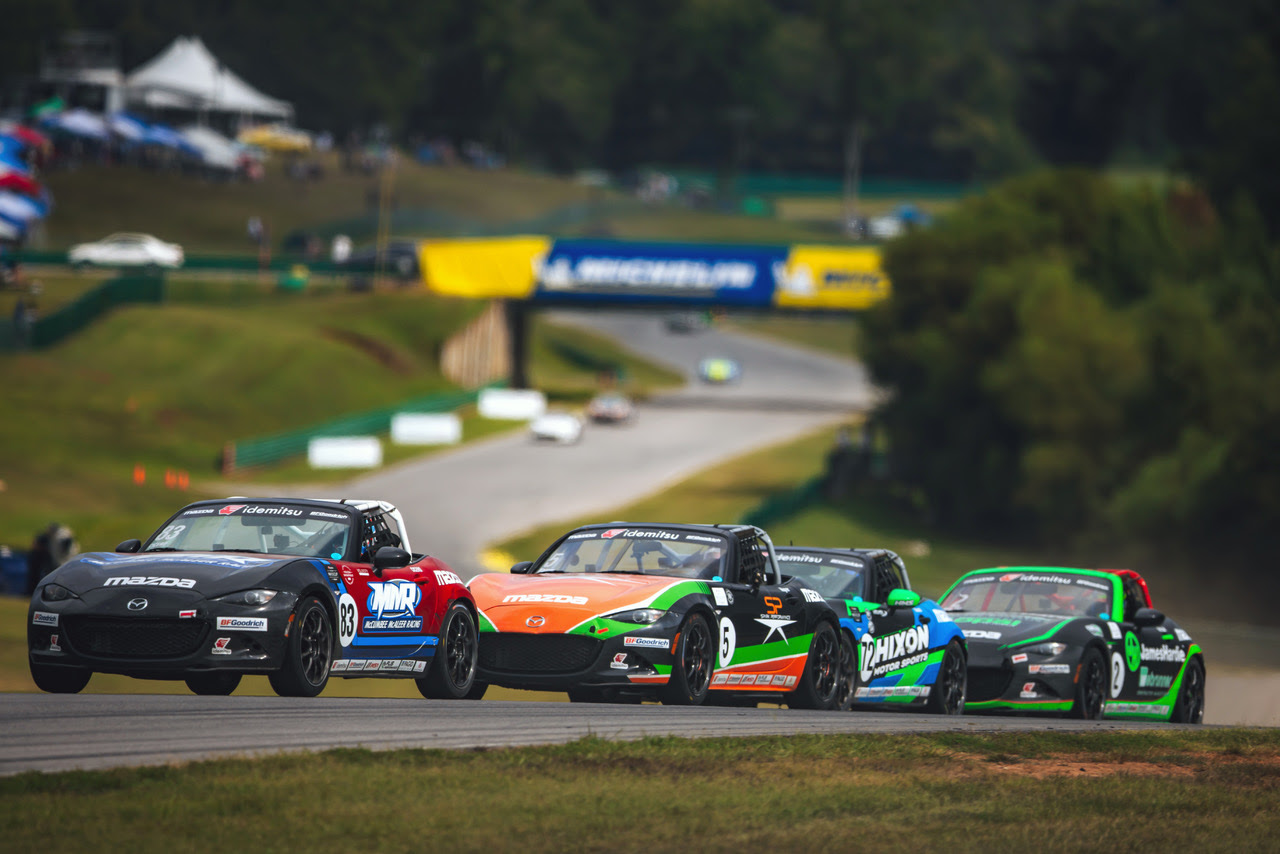 MX-5 Cup rookies have their eyes on an $80,000 prize for Rookie of the Year. With a win on Saturday and a third-place finish on Sunday, Cicero strengthens his lead in the rookie points.
"We led a couple of laps, which is great," Cicero said. "I was having quite a bit of fun. It was really tricky with the car overheating as soon as you tried to push anyone.  The weekend was a nine out of ten; a great weekend. I love this place and to get these solid results, I'll take that, but there's always more to learn."
Just like Saturday, Opalski barely missed the podium on Sunday, finishing fourth.
Rookie Thomas Annunziata (No. 10 Hixon Motor Sports) completed the top five and stays within striking distance of Cicero for the Rookie of the Year title.
Both races are available to view on the RACER YouTube page.
As expected, the 2023 MX-5 Cup Championship will come down to the final two races at Michelin Raceway Road Atlanta, October 11 – 13. Both races will be streamed live on RACER.com.