Mark Kvamme's eighth Porsche Deluxe Carrera Cup North America victory overcomes point deficit to take second consecutive Am class title
AUSTIN, Texas (24 Oct. 2023) – The Racing to End Alzheimer's with MDK Motorsports team swept the season-ending Circuit of The Americas weekend, giving Mark Kvamme his second consecutive Porsche Deluxe Carrera Cup North America Am championship with his seventh and eighth victories of the campaign.
Kvamme scored podium finishes in all 16 races this season, driving the No. 43 Porsche 911 (type 992) GT3 Cup car – including seven runner-up results. The season finale marked his third weekend sweep (along with Long Beach and Miami) and extended his podium streak to 22-straight dating back to last season.
But one of the weekend's highlights happened off track. Kvamme is friends with F1 star Kevin Magnussen, who came by the tram transporter after Porsche qualifying to see his grandfather Hans Erik's name on the car, near Kvamme's grandfather Magnus.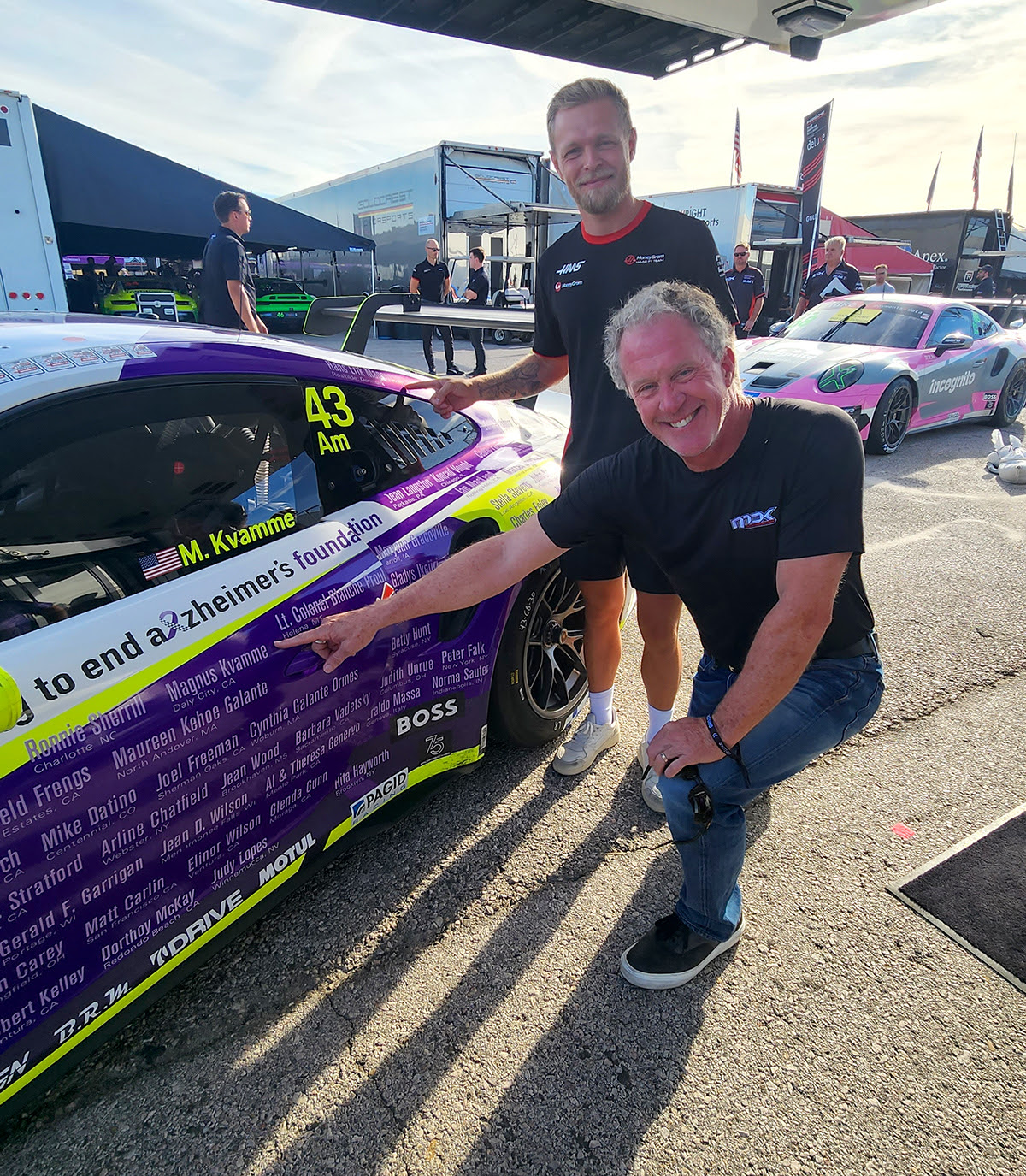 "Kevin is a good friend and it was wonderful of him to come by. The work that Phil and the entire Racing to End Alzheimer's program does means so much. It was a good, good, good day."
The Racing to End Alzheimer's team set a new record this season, with the names of 216 friends and family who have suffered from dementia or Alzheimer's on the car. From program founder Phil Frengs:
"Our first year, in 2017, we had 65 names on the car. We've grown the program where we cover the car all season long. We had an appearance on the Austin ABC affiliate's morning show Friday and we started getting names because of that.
"Every day, we're moving people to consider their friend or family member. For us, that personal contact, that hearing the story about them, is very moving to me and it's the fuel that runs our engine."
But there was still on-track work to do. Kvamme entered Sunday's finale trailing teammate Scott Noble by 10 points, with each driver's two worst finishes not counting in the scoring. Noble was caught up in an incident early on the first lap, resulting in terminal suspension damage and a turnaround in the points.
The MDK Motorsport teammates were close in lap times all weekend. Kvamme led Friday's lone practice by a slim margin, and led much of Saturday's qualifying before Noble ended the session with a pair of fast laps to capture both weekend poles.
Kvamme got the hole shot to take the lead in Saturday's opening 35-minute race. Noble regained the advantage in Turn 10 with 18 minutes remaining. Kvamme made his move in the same corner coming to the white flag, and then held off his teammate by 0.267-seconds in a side-by-side drag race to the checkered flag.
"It was a great race – it was a fabulous race," Kvamme said after the opening sprint. "Scott raced really, really well. I was able to get him at the start going into turn one, when we got all bunched up. After the yellow, he got me in turn 10. I was right behind him the whole time. At the end of the race, I could tell that his tires were going away, and I took the advantage in turn 10 myself on the second to the last lap and was able to get him. It was a lot of fun."
Kvamme rolled off the grid just behind Noble in Sunday's season finale. But Noble's race quickly came to an end, when he spun and was hit seconds after the green flag. Luck was with Kvamme on the second lap, as he barely missed running over debris that brought out the opening caution.
Kvamme led the remainder of a race that was slowed by three yellow flags and ended under caution. When he stopped on pit road, Kvamme hopped to the roof of his Porsche and raised his arms in victory. Moments later, he proudly took his place on the Formula 1 podium for the playing of the USA National anthem, though still thinking of his teammate.
"First of all, that's not how I wanted it to end," Kvamme said. "Scott has pushed me hard, and he's a great guy. I knew there was going to be a lot of carnage. It was the last race of the season, and people are just going for it. You knew people were going to be aggressive, so I was just trying to be as safe as I could, watching everything around me. I knew the players around me are good folks, and I was able to stay safe.
"It was a great race, and I'm so happy for the Racing to End Alzheimer's guys. We broke the record with 204 names and we raised $200,000, which is spectacular.  It was an amazing season for Phil, Nick and the whole team. I can't say enough about the work this program is doing."