Mark Nelson claims victory in his IMSA debut with KMR
Sonoma, Calif. (18 September 2017) – It was a thrilling weekend on the West Coast for Kelly-Moss Road and Race (KMR) as the team took home three victories and the championship title after two big days of IMSA Porsche GT3 Cup Challenge USA by Yokohama action at Sonoma Raceway.
Heading into the penultimate event of the championship, Jake Eidson needed to finish ahead of fellow championship contender Corey Fergus in both races in order to take the title. Eidson did just that by winning both races at the northern California road course.
Saturday's Race 1 saw Eidson score victory in a dominating fashion. He started from the pole in the No. 24 Kelly-Moss Road and Race Porsche and never looked back – eventually extending his winning margin to over 10 seconds.
While Race 1 ran green the entire way, Sunday's Race 2 was slowed by two caution periods. 
Once again Eidson started from the Pole but had to be mindful of Fergus who started on the outside of the front row. Despite having to face multiple restarts with Fergus right behind, Eidson kept the big picture in mind and drove a smart race, leading every lap all the way to the checkered flag.
"The last time I raced at Sonoma, it was in an open wheel car and I approached this weekend like I would any other track where my only experience has been in open wheel racing – I basically have to relearn it and get a feel for the different lines," said Eidson. "The 
second race I knew that I had to focus on having a good start and a good few opening laps. Turns 1 and 2 are a bit tricky and I have seen championships lost in that section, so I was really focused on having a clean start. There were a few full course cautions which were frustrating, but we managed to have really good restarts."
The result gave Eidson his sixth victory of the season and his first IMSA Porsche GT3 Cup Challenge USA championship in his debut season. It capped an incredible year for Eidson, who won the Hurley Haywood Scholarship and moved to sports cars full time in 2017 after an outstanding career in junior open-wheel formulas.
"This whole season has been a dream come true," offered Eidson. "Ever since the beginning, the goal was to win the championship and get to this point in the season and now to realize that it has actually happened is just such a great feeling. It is a huge weight lifted off of my shoulders as well as the team's. There is so much work that goes on behind the curtain to produce a championship-winning effort and I can't thank the Kelly-Moss Road and Race team enough for all of the hard work they have put into this season."
Adding to the team's celebrations was Mark Nelson's Gold Class victory in his IMSA debut. 
After racing in Porsche competition for years, Nelson made the move up to IMSA for the first time at his home track of Sonoma. And that home track advantage paid off with Nelson taking a runner-up finish on Saturday and following that up with the Gold Class victory on Sunday.
"Winning this weekend far exceeded my expectations," said Nelson. "I felt we had a really solid shot at a podium and would put all effort in going for a win, like any other event we attend, but it took incremental steps to get to even have a shot at it. The caliber of the drivers, particularly the younger drivers trying to come up through the ranks, was going to make this a bigger challenge. Overcoming these challenges and coming away with a win in my debut IMSA event at my home track just doesn't get any better. I'm extremely thankful 
and humbled to be competing with these very talented drivers."
The opportunity to race in IMSA came as a team effort between Competition Motorsports and Kelly-Moss Road and Race with the KMR crew supporting the No. 32 Porsche of Competition Motorsports.
"KMR did a tremendous job and runs an extremely well organized team," said Nelson of his debut weekend with KMR. "Between the engineering, data analysis, coaching and technical support, they have all the bases covered. I am extremely grateful to Jeff Stone for accommodating me this weekend as well as to Bob Faieta at Competition Motorsports for providing the car. My previous experience in Pirelli GT3 Cup Trophy, and particularly at Sonoma absolutely paid dividends. Many of the other competitors had either very limited or no experience on track at Sonoma. Add in the factor of the limited amount of track time (five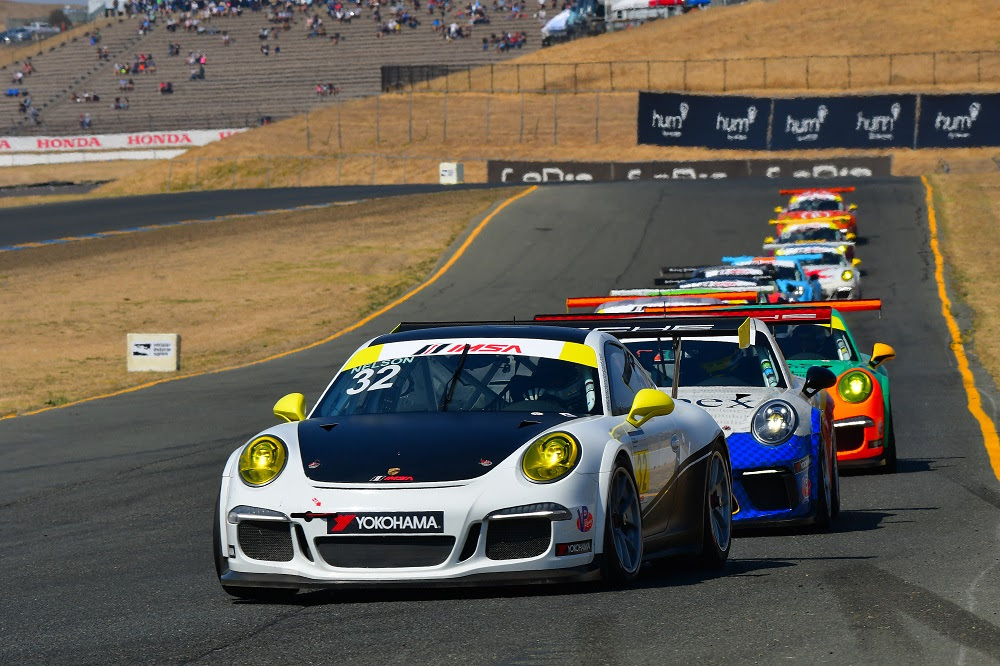 sessions, including two races), and KMR's experience in IMSA across all logistical and technical aspects was absolutely pivotal to our success this weekend."
Kelly-Moss Road and Race President Jeff Stone was thrilled with his team's performance, not only at Sonoma, but at each and every race this year.
"I could not be more proud of Jake (Eidson) and the job that he has done for us this season, he had an outstanding opportunity and he has made everything he possibly could out of it," said a beaming Jeff Stone. "It is great to add another championship to what we've accomplished as a team, but it was up to Jake to deliver and he did. I'm just thrilled. And to have Mark (Nelson) come in and do so well in his first-ever IMSA race, that was really impressive so hats off to him. Many thanks to MPT, Children's Hospital, Brey Krause and Hurley Haywood for all their help and support. We are going to enjoy this championship win for just a minute but everyone here is already thinking about Road Atlanta in a few weeks!"
Kelly-Moss Road and Race will return to IMSA competition for the 2017 season-finale at Road Atlanta on October 4-6.