Teams head to France following huge Ferrari Challenge weekend at Montreal F1 for AERO Sustainable Paint Technology squads
Le Mans, France (
14 June 2018
) – With 85 years of history written on every inch of the eight mile circuit, the 24 Hours of Le Mans is an event without equal. Through the decades, it has attracted names like McQueen, Ickx, Newman, and this year, Alonso.
Drawn to the challenge of 24 hours of racing on a track that only exists for a few weeks a year, the drivers that sign on for Le Mans understand what it takes to step up and deliver in such a demanding event.
They also understand that with three sections of flat-out straights that are critical to lap times, speed is everything. The race rewards those that can make the most of the nearly mile-long sprints between the Michelin chicanes and corners like Indianapolis, Arnage, and the final Ford chicane ahead of the recently relocated start finish line.
To that end, each edition of the 24 Hours of Le Mans has seen more teams arriving at the Circuit Le Sarthe each year equipped with AERO Sustainable Paint Technology. That roster now includes Corvette Racing, which has a very specific target in the team's 19th consecutive outing at Le Mans—victory.
The 17-car GTE Pro category is one of the most competitive classes in the race, featuring the titans of the automotive industry with four strong entries from the factory Porsche squad, brand-new BMWs, the defending race winners Aston Martin, and an always-fast fleet of Ferraris.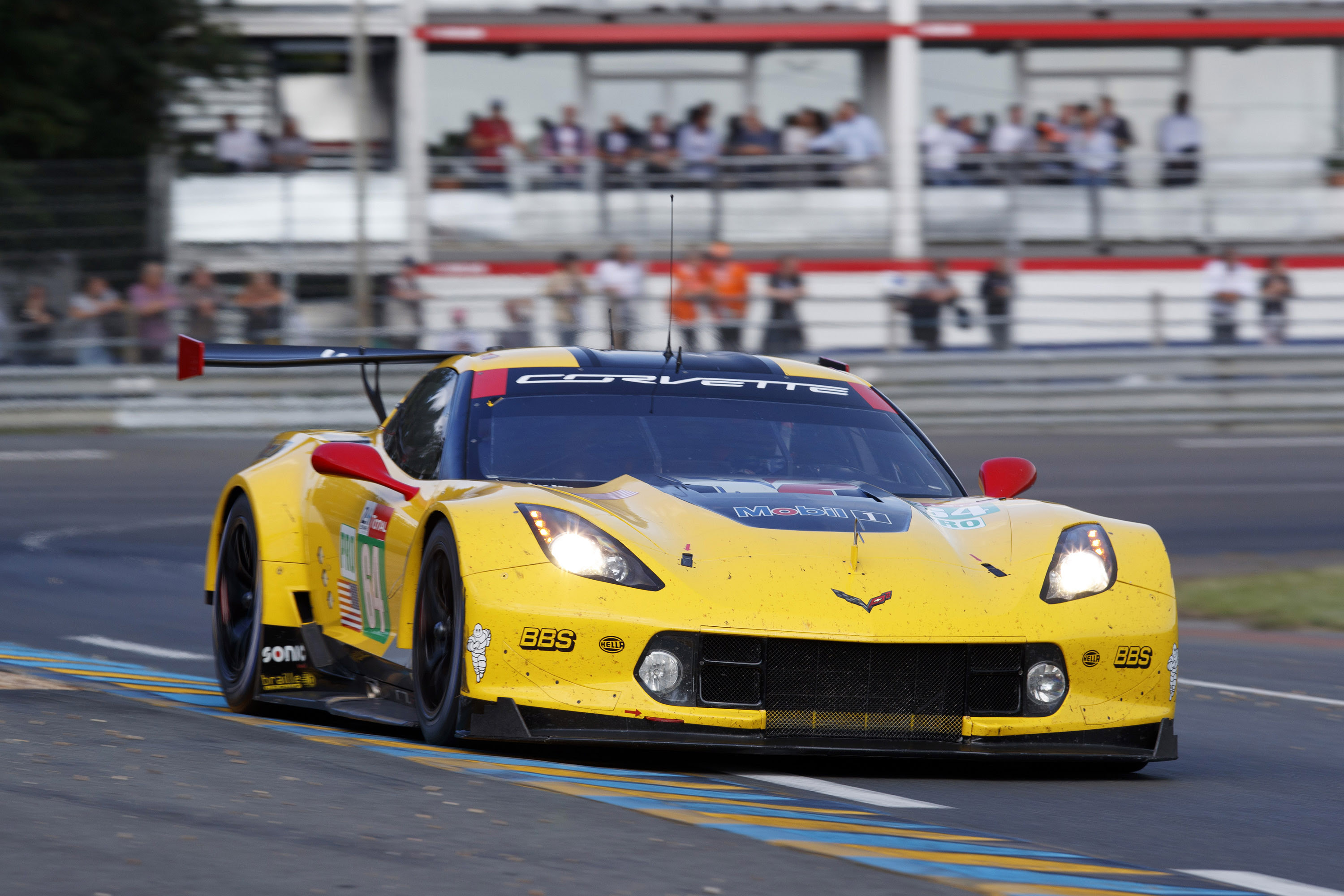 If the yellow thunder Corvettes can emerge with another win at Le Mans, it would mark the 9th such triumph for the team.  In addition to a well-rehearsed squad and a fan-favorite pair of Corvettes, the team has a driver line up that boasts some 18 Le Mans wins across the six drivers with Antonio Garcia, Jan Magnussen, Mike Rockenfeller, Oliver Gavin, Tommy Milner, and Marcel Fässler.
Despite the fact that its Corvette C7 has more years on it than any other entry in the class, the team is hoping that the small differences will add up over the course of 24 hours.
"The Test Day illustrated what we already knew to be true: this year's GTE Pro race will be the most difficult one in Corvette Racing history," said Doug Fehan, Corvette Racing Program Manager.  "Since we ended the testing session, our engineering team in Le Mans and in America have been analyzing our performance to see where we can make gains and what adjustments the crew can make to both Corvettes. We may not know until we hit the track again where we stack up, but no team will give a greater effort than Corvette Racing."
The LMP2 category, with some 20 entries, is also sure to be a thriller from start to finish, and AERO will likely factor there as well.
Starting from the leadership of team co-owners Zak Brown and Richard Dean, United Autosports has a strong history of attracting some of the biggest names in the sport. This year for the two-car Le Mans 24 effort, those names include Juan Pablo Montoya, Filipe Albuquerque, and F1 graduate Paul Di Resta.
The team will look for as much performance as is possible out of its updated red white and blue Ligier entries, which both utilize AERO to their advantage.
"It's great to be back at Le Mans with the Ligier which we now know is much quicker in a straight line, which is awesome, but we still have some deficit on pure lap speed to the Orecas," said Albuquerque. "We know it's going to be hard to go for a single lap based on speed to beat the best, but we are much more consistent and better than last year and we ended up P6 at the test and ahead of many of the Orecas, so for the race I think we can only get better."
But before the French flag drops on the 24, the fever of the fans is brought to a boil by a pair of races as part of a growing tradition. The race week will see two Michelin Le Mans Cup "Road to Le Mans" races, which feature GT and LMP3 machines with two-driver line ups. With such a tight set of LMP3 specifications, it is little surprise that this is another category where teams have turned to AERO Sustainable Paint Technology.
In addition to the Le Mans 24 effort, United Autosports will look to extend its strong record in Road to Le Mans competition. An impressive four-car lineup that includes the No. 22 of Jim McGuire and Matt Bell, the No. 23 of Shaun Lynn+Richard Meins resplendent in Gulf colors, the No. 32 of first time Le Mans pairing Najaf Husain and IMSA regular Colin Braun, as well as the 2017 ELMS LMP3 championship-winning duo of Sean Rayhall and John Falb in the No. 33.
The race will also see the No. 55 AF Corse/Spirit of Race LMP3 of Chris Buncombe and Patrick Byrne as well as the No. 4 Brookspeed Norma of Nico Rondet and John Schauerman.
The Le Mans weekend follows closely on another huge event last weekend, as Montreal played host to Formula 1 once again as well as the Ferrari Challenge.
  While there is little in the world that looks better than a Ferrari race car, some of the Ferrari Challenge drivers and teams have one-upped that by utilizing AERO on a range of distinct liveries. That has also paid off with performance, as Thomas Tippl won in Coppa Shell on board his Andy Blackmore-designed Nikki Lauda tribute livery that was signed by the man himself.
Other AERO pilots to enjoy the F1 podium champagne experience included Peter Ludwig and Mark Fuller with their respective runs to second place, while Coppa Shell-Am competition saw Kevan Millstein also snag a second place result.