DAYTONA BEACH, Fla. (24 January 2020) – Daytona International Speedway is legendary for close, hard racing and today's BMW Endurance Challenge at Daytona was all of that and more, as both Stoner Car Care Racing fielded by Automatic Racing Aston Martin Vantage GT4s experienced their share of mayhem in the 2020 IMSA Michelin Pilot Challenge season opener on Friday.
The four-hour, 110-lap endurance classic, part of the IMSA WeatherTech SportsCar Championship's Rolex 24 At Daytona, saw three caution periods for a total of 16 laps, but that doesn't tell the story of the action-packed day for the two-car Stoner Car Care team.
Rob Ecklin Jr., Ramin Abdolvahabi and Brandon Kidd shared the wheel of the No. 09 Stoner Car Care Aston Martin Vantage GT4. Starting P21 and working his way up to P16 early, Ecklin saw his race strategy take a hit – literally – on Lap 5, as he was struck on the driver's door by another car going into Turn 1, causing damage to the driver's door.
Ecklin managed the ensuing vibration before coming into pit lane for four Michelin tires and fuel, which seemed to fix the issue. But on Lap 28, Ecklin was hit again, this time in the rear of the car going into the Bus Stop, but he was able to stay out on track for the remainder of his stint, handing the car to Abdolvahabi with 2:40 remaining.
Then, with 2:15 remaining in the race, Abdolvahabi experienced a near repeat of Ecklin's incident. A car attempted an optimistic move going into Turn 1 and went wide, nearly catching Abdolvahabi in the left front and sending the Aston Martin into avoidance maneuvers through the grass. Then, on two separate instances later in the stint, overly ambitious entries into the bus stop saw Abdolvahabi forced to take evasive action.
Kidd took the wheel with one hour and 17 minutes remaining, battling the best he could on scuffed tires. He came back to pit lane for his final stop with 34 minutes remaining for sticker tires and was moving up through the field when the No. 19 Mustang came across the front of the Aston Martin entering the Bus Stop and went hard into the tires. The resulting debris field meant the race ended under caution, with the No. 09 Aston Martin finishing18th.
"That was a busy, busy race," said Ecklin. "My first stint was the launch of the race, in traffic, so it took a while for everyone to sort themselves out. I had a car length on the Mercedes and did my normal turn-in, and he came into my left side and pushed me wide of Turn 1. My spotter, Chris Long, told me he got into the grass so maybe he lost grip and used me to slow down! Brandon took a hit late in the race and Ramin had to avoid several incidents, so just finishing was an accomplishment today. We kept our heads up and worked our way through it and though we're disappointed, we know the Aston Martin has a good finish in there. We just need to break through."
"I avoided three major hits—hits that could have totaled the car, " said Abdolvahabi. "In two instances, cars dive bombed me into the Bus Stop and I had to go onto the grass to avoid them. It was just mayhem; some of the drivers out there were just not driving the way they normally do, so maybe there was too much first-race excitement. The car wasn't quite right when I got in so from my standpoint, just bringing the car home was a win."
"Rob got hit a few times but did a great job to keep it going, and Ramin kept it clean and passed it on to me," said Kidd. "We had a very close call at the end – I was catching the group in front of me and was going to the inside to pass (Scott) Maxwell and I don't think he saw me. I was going to back off going into the Bus Stop, but he cut across my nose and went through the grass. I immediately called the team, hoping he was okay. It's disappointing to end the race that way, but the weekend was a blast, I love racing with these guys."
For Gary Ferrera and Kris Wilson in the No. 99 Invisible Glass Aston Martin Vantage GT4, it was a story of what might have been. Both drivers were looking for a repeat of their podium finish last year, and their strategy looked to be going on plan early, as Ferrera turned the car over to Wilson, his longtime driver coach, in good shape with 2:32 remaining. Wilson began a charge up through the field, putting the car into P10 when the power steering failed. Nursing the car home (with the blisters to show for his effort), Wilson took the checkered flag in 15th position.
"It was a very interesting race," said Ferrera. "We made some changes post-qualifying that went a bit in the wrong direction, so we had a good amount of push. We kept it going but there wasn't much we could do once the power steering went out on Kris – if it had been anyone else besides someone with his many years of experience, we wouldn't have finished. The team did a great job so if we figure this out, we'll be in good shape going forward."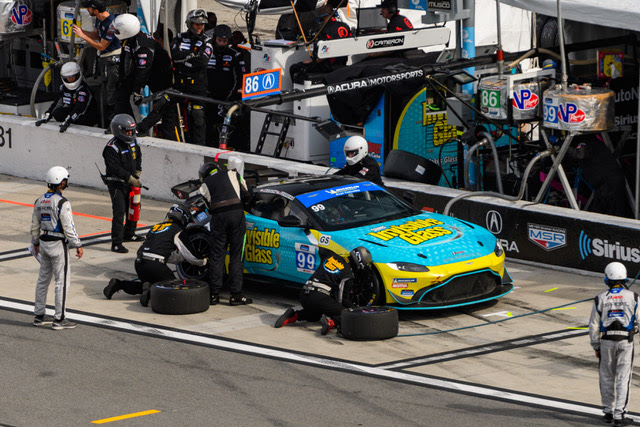 "It was mayhem," said Wilson. "We had a great battle with Cindric, passing back and forth, so I'm not sure how much of the power steering failure was due to that. Once we lost the power steering, it was difficult to steer, especially with the half steering wheel. But I'm happy with the way things were going – Gary did exactly what he needed to do: keep the car in contention and hand it over to me in prime condition, on the lead lap. It's unfortunate that it didn't work out as well as it did last year, but we'll fight another day."
Next up for the Stoner Car Care Racing team is the Alan Jay Automotive Network 120 on Thursday, March 19 at Sebring International Raceway. The race will be broadcast live in the U.S. on NBC Sports Gold's TrackPass, while international viewers can watch via 
IMSA.tv
. IMSA Radio will also be available at 
IMSA.com
.
About Stoner Car Care
Stoner Car Care produces high-performance car washes, waxes, polishes, and dressings for auto enthusiasts and car care professionals. The Stoner Car Care line-up includes Invisible Glass, America's #1 Automotive Glass Cleaner, along with many other appearance products. Whether driving, washing or waxing, Performance Matters! Stoner car care proudly formulates all of our product since 1942. 
www.stonercarcare.com
About Invisible Glass
Automatic Racing sees their way to victory with Invisible Glass, the top-selling automotive glass cleaner in the United States. The Invisible Glass product line includes aerosol and spray bottle cleaner, Invisible Glass with rain repellent for windshields and wiper blades. Find more online at 
https://www.invisibleglass.com/
About Automatic Racing
Based in Orlando, Automatic Racing is one of the longest-running teams in the paddock, forming in 2001 and competing in all but one of the 11 MICHELIN Pilot Challenge races at Daytona. The team has been developing, preparing and racing the prestigious Aston Martin Vantage GT4 since 2012. Automatic Racing won the 2017 MICHELIN Pilot Challenge title.