Kvamme maintains point advantage for Am championship with two weekends remaining
INDIANAPOLIS, Ind. (19 Sept. 2023) – The Racing to End Alzheimer's team continued its podium streak with a pair of second place finishes at Indianapolis Motor Speedway for Mark Kvamme in the No. 43 Porsche 911 GT3 Cup car, who continues to lead the Am class of the Porsche Deluxe Carrera Cup North America with two weekends remaining.
Kvamme has placed on the podium in all 12 races this season, extending an 18-race streak that began with the final six races of his 2022 championship campaign.
"Racing at Indianapolis is amazing," Kvamme said. "It's such an historic place, and it's a lot of fun to drive here. Now, I'm looking forward to watching the IMSA WeatherTech Championship race. I'm a race junkie, and I get to do it all here. I get to play in it, and I get to see it. Today I had 184 names along for the race with me on the front of the car, and that's absolutely 100-percent of why I'm doing this."
The team carries 184 names on the No. 43 Porsche 992 Cup Car, and
each of the names reflects the efforts of the R2EndAlz team to increase awareness of Alzheimer's Disease, while giving families a way to honor their loved ones in a very tangible way – and raising funds for research and treatment (more information at (https://www.r2endalz.org).
For Racing to End Alzheimer's founder Phil Frengs, the chance to bring the team's message of hope to the legendary Brickyard – and to bring home a double podium – was a season highlight. Kvamme's teammate Scott Noble, who won both races, has joined the team as well, carrying a R2EndAlz decal to aid the cause – which hit a milestone this weekend.
"For a racing nerd like me, being here is special in itself," said Frengs. "And for us to have a double podium, in both races. Congratulations to Scott, he's been terrific lately and Mark was just hanging in there trying to catch him. But we are very pleased.
"We've met last year's total for names on the car, and funds raised, and
we still have two races to go," continued Frengs. "So we really feel like we are on our road to 200 or more, which was our goal at the beginning of the season. We are happy to see it being reached."
Kvamme unofficially maintains a 17-point advantage in the Am standings with a pair of two-race weekends remaining over MDK Racing teammate Scott Noble, who won both weekend races. Kvamme was able to cut the gap on Noble in the closing minutes of the Sunday event, ending up 2.148 seconds behind at the checkered flag.
"Scott is the new sheriff in town," Kvamme said of his teammate following Sunday's race. "I'm having a hard time trying to catch him."
Throughout the weekend, the Racing to End Alzheimer's team was chasing better grip on the 14-turn, 2.439-mile circuit that uses a portion of the 2.5-mile oval that hosts the Indy 500.
"Traction here has been really tough," Kvamme said after qualifying second for Saturday's opening round. "We were trying to figure out the right setup, and I ended up going very soft in the front to get more turn-in, because the understeer was amazing. But as you get softer, you get oversteer, so it's an interesting balance between the two. The setup for my car was a lot softer than my teammates."
Race 1 saw Kvamme gain four positions on the overall field but found himself two positions behind Noble. Over the closing laps, Kvamme raced hard to maintain second, and was able to hold that position by one second. He placed 23rd overall, one place behind his teammate.
The Sunday morning finale quickly went under yellow for a multicar incident in Turn 1. After a slowdown of nearly 18 minutes, Kvamme was 17th overall, two seconds behind Noble. He closed the gap to under two seconds in the final minutes – while also defending his second-place position in the class – but could get no closer.
"I drove much better today," Kvamme said. "I'm much happier with my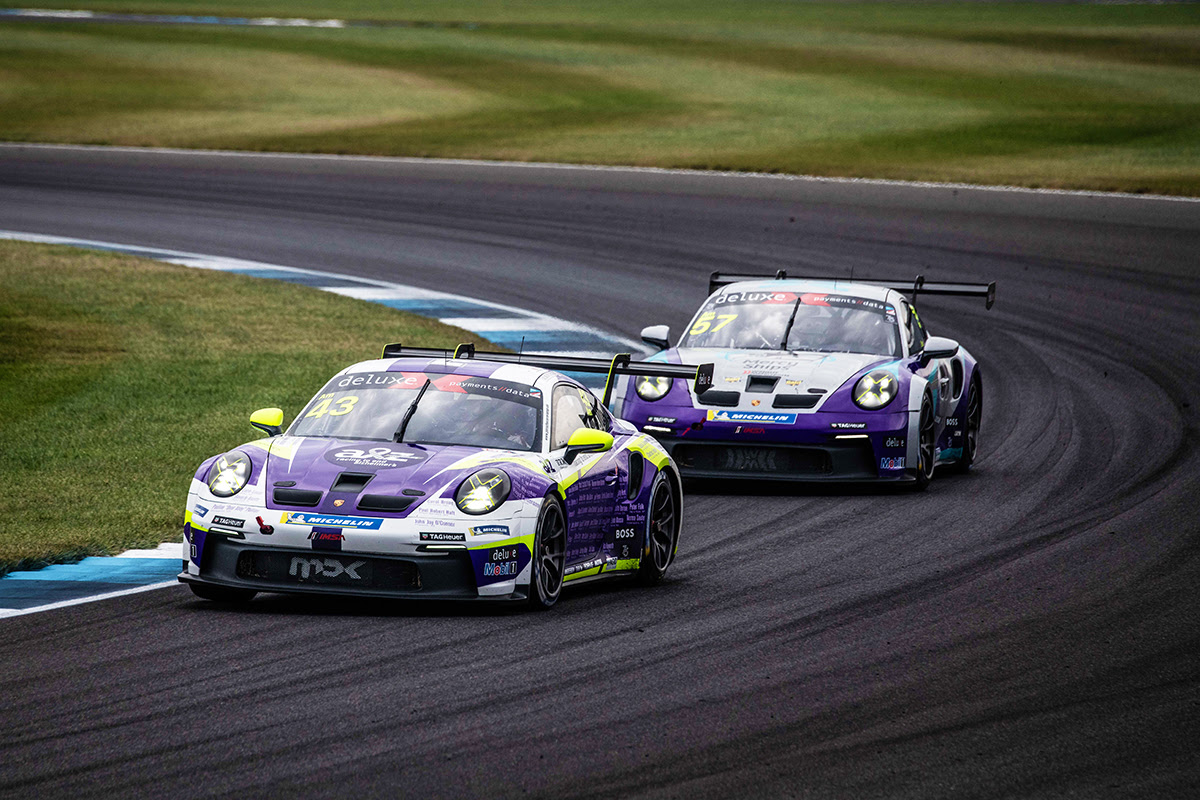 drive today. Yesterday, I couldn't really figure it out. I was a couple of seconds behind him. On the end part of the course, I was actually faster than him on each lap, but overall, he had me. Today we were 17th overall – that's pretty good. It was crazy out there!"
Next up for the Racing to End Alzheimer's team and the Porsche Deluxe Carrera Cup North America will be the doubleheader in support of the Porsche Rennsport Reunion 7 at WeatherTech Raceway Laguna Seca September 29 – October 1. Race one takes the green flag Sunday at 9:50 a.m., with race two later in the day at 4:20 p.m. The race will be broadcast live in the U.S., on IMSA.tv, the NBC Peacock streaming app and PorscheCarreraCup.us.