Over 180 names will adorn the No. 43 Porsche in the weekend's Porsche Deluxe Carrera Cup North America doubleheader
LOS ANGELES (11 September 2023) – The Racing to End Alzheimer's team returns to action this weekend, bringing its message of hope to the Indianapolis Motor Speedway in this weekend's Porsche Deluxe Carrera Cup North America doubleheader, part of IMSA's TireRack.com Battle on the Bricks.
Driver Mark Kvamme leads the series' Am class with six wins in 10 races behind the wheel of the No. 43 Porsche 911 GT3 Cup car. But for Kvamme, the most important part of the season is the chance to make a difference in the fight to end Alzheimer's.
"I've been fortunate to be able to use the car to help fund research to end Alzheimer's," said Kvamme. "Our goal is to raise $250,000 this year. I'm honored to have put the names of friends, parents, and other loved ones on the car and to help raise awareness and funds for care and research. We have to end this horrible disease."
The No. 43 Porsche gives families the chance to honor loved ones who have suffered from Alzheimer's disease or other forms of dementia. For a $250 donation, the family member's name and hometown is placed on the car, and their photo can be posted on the R2EndAlz website's tribute page. All donations are matched, with 100% going to the Nantz National Alzheimer's Center at Houston Methodist Hospital and the UCLA Alzheimer's and Dementia Care Program.
To date, Racing to End Alzheimer's has donated nearly $8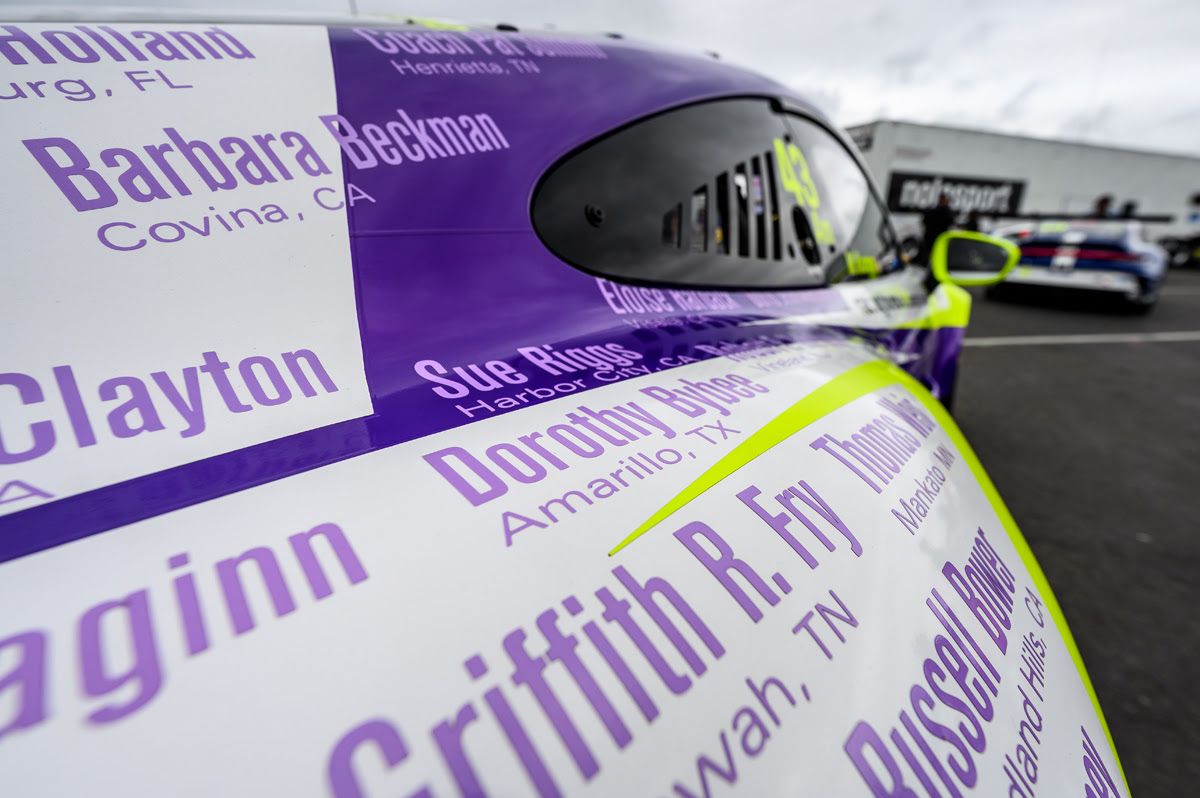 00,000 to those two programs, along with Alzheimer's organizations near the team's races in Toronto and Quebec.
Phil Frengs began the Racing to End Alzheimer's program to make a difference for other people going through the same difficulties that he has for the past 10 years, since his wife Mimi was diagnosed with early onset Alzheimer's. From being the designated "chief hugger" as fans come to share their own stories of love and loss to being the main conduit of Alzheimer's information, Frengs feels that his involvement with the Porsche series has made a difference in so many lives.
"This gives me some purpose," said Frengs. "Watching someone go through this disease, the two things that come to mind are how helpless you feel and how hopeless you feel. So, I feel this is my calling and my opportunity to do something, to help families honor affected loved ones in a uniquely joyful and memorable way.
"The battle against Alzheimer's is engaged on many fronts," continued Frengs. "It is our honor and privilege to contribute to that effort in the best way we know how: by racing our hearts out to help fund leading Alzheimer's treatment, services and research, and by paying loving tribute to those whose lives have been impacted by this insidious disease."
The famed Brickyard is the latest in a series of legendary racetracks at which the team has competed this year – some that are new to the series, including the Miami Grand Prix and Circuit of the Americas, to go with Watkins Glen, Road America and Sebring. The weekend marks a chance to talk to a new audience, something Frengs eagerly anticipates.
"The Indianapolis Motor Speedway is always an inspiration to us," said Frengs. "The 110-year-old Brickyard is one of most famous venues in sports. Its long history is simply unmatched. We feel the magic, the drama and the sense of place every time we race there. We can't wait to get 'home again!'"
The Porsche Deluxe Carrera Cup North America doubleheader takes place September 15-17 as part of the IMSA Battle on the Bricks at the Indianapolis Motor Speedway. Race one takes the green flag Saturday at 2:30 p.m. EDT, with race two Sunday at 9:40 a.m. The races will be broadcast live in the U.S., on IMSA.tv, the NBC Peacock streaming app and PorscheCarreraCup.us.
About Racing to End Alzheimer's
In 2013, Phil Frengs' wife Mimi was diagnosed with early-onset Alzheimer's Disease. Their experience with the disease led Frengs to a seminal moment: his company, Legistics, had long sponsored a team in IMSA sports car racing and he realized an opportunity to raise money and awareness for the fight against the disease. In 2017, he formed Racing to End Alzheimer's, giving fans the opportunity to honor loved ones by putting their names on the race car via donation – with Legistics matching each donation. 100% of those donations go to the two organizations the team supports:
The Nantz National Alzheimer's Center at Houston Methodist Hospital is exploring cutting edge strategies in therapy, care and research to find a cure for these dementias. NNAC was founded by longtime CBS Sports broadcaster Jim Nantz III and his family in honor of his father, Jim, Jr., who passed away after a 13-year battle with Alzheimer's. It is a world-class research, referral and care center that combines comprehensive patient services with the resolute pursuit of scientific breakthroughs in the treatment and prevention of Alzheimer's.
The UCLA Alzheimer's and Dementia Care Program is a nationally-recognized grant-funded program designed to help patients and their families with the complex medical, behavioral and social needs associated with Alzheimer's disease and other types of dementia. UCLA is renowned for its compassionate, personalized Alzheimer's care; innovative social and psychological programs; and robust support services for patients, caregivers and families. Via webinars and on-site education, UCLA works with Alzheimer's and dementia programs across the country to improve care for patients and families alike.