Indianapolis, Ind. (12 September 2023) – The Heart of Racing (HOR) team looks for a change of fortunes at Indianapolis Motor Speedway (IMS) this weekend after some bad luck made for a disappointing outing at VIRginia International Raceway last month. The IMSA WeatherTech SportsCar Championship will return to the Brickyard for the first time since 2014 for the penultimate championship round on September 17th (1:00pm ET NBC).
Currently second in both the IMSA championship points standings and the IMSA WeatherTech Sprint Cup, the No. 27 Heart of Racing GTD team will once again see Roman De Angelis and Marco Sorensen behind the wheel. To Sorensen, this race is just another new track to learn as the Dane has only seen two of the eleven IMSA tracks prior to the race weekend.
"Indy has so much history, and I'm excited to see it for myself," said Sorensen. "We have had a few not so good last couple of races, but we have been preparing as much as we can for this race. With there being a lot of teams that haven't been to the track in so long, I think we have a pretty good chance of doing well and hopefully close the gap in the championship a bit."
De Angelis on the other hand, has had a few starts at IMS competing in SRO Sprint X Series in 2020 in a GT4 Panoz Esperante Avezzano. The Canadian and his co-driver scored a second place finish overall in the first of two races.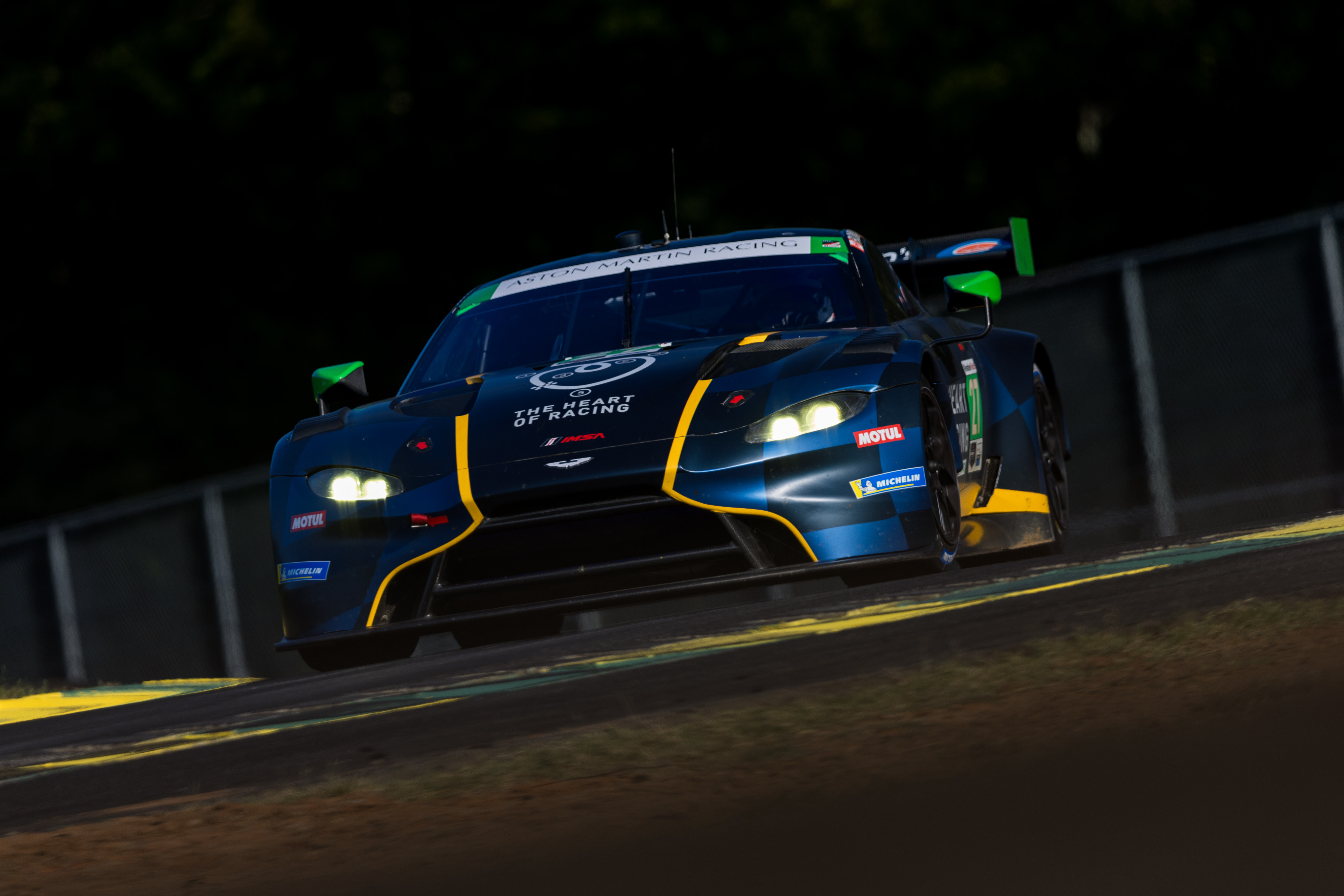 "I'm really looking forward to racing at Indy," said De Angelis. "I've driven there a few times in the past but never in a GT3, which I think will be a super fun car to drive around the iconic track. Obviously the history behind IMSA as well as Indianapolis will make for a really exciting and hopefully a great event for fans and competitors to enjoy. The championship is still alive and we're hanging in doing the preparation and work we can to stay in the hunt, it's a long way to move forward, but anything is possible so really looking to get it our best."
The duo has had a season of highs and lows scoring a win at the Rolex 24 Hours at Daytona in January and then again at Lime Rock Park in July, but most recently scoring a twelfth place finish at VIR. While Sorensen has not seen many of the circuits on the IMSA schedule, he and De Angelis have managed three podiums this season including two wins.
The No. 23 Aston Martin Vantage piloted by Ross Gunn and Alex Riberas currently sit fifth in the GTD PRO championship points standings. Gunn and Riberas will also be making their debut at IMS this weekend.
Of the last three events on the IMSA schedule, Gunn and Riberas scored wins and the Motul Pole Award at two of the three races. The first win at Lime Rock Park came after an incident that sent Gunn into the wall at Canadian Tire Motorsports Park totaling the Aston Martin Vantage. Then building on the momentum of the Lime Rock Park win, the pair went on to win the next race at Road America a few weeks later.
"It's definitely exciting going to a new track, a new track always presents a new challenge," said Riberas. "For us and the team with the current package that we have, it is difficult to know if we will be competitive at Indy, but we will do everything we can to be competitive. We are currently lacking a bit of pace, so we have some homework to do. Nevertheless, competing at a track that is as glamorous as Indianapolis, it's a privilege and a dream come true. I'm very much looking forward to it."
The Battle on the Bricks will take the green flag on Sunday, September 17th with live coverage on NBC starting at 1:00pm ET.