Alex Sedgwick captures his fifth podium of the year and secures fourth place in the final standings
AUSTIN, Texas (25 October 2023) – PT Autosport with JDX Racing completed its rookie Porsche Deluxe Carrera Cup North America season on a high note last weekend, taking a podium and a fourth-place finish in the season finale doubleheader – part of the Formula One Lenovo US Grand Prix at Circuit of the Americas.
Driver Alex Sedgwick qualified third and finished third in Saturday's 35-minute race for the fifth podium of his rookie season, and almost duplicated the feat on Sunday morning. Making solid passes and maneuvering through multiple incidents, the 24-year-old Warwickshire, UK native took his No. 98 PT Autosport Porsche 911 GT3 Cup Car from 11th on the starting grid to fourth position at the checkered flag.
Record heat across Texas captured the early headlines. Friday's early morning practice session saw an ambient temperature of 65℉ but a UV index over 7 under the blazing sun. In the top five through most of the session, Sedgwick held P3 at the checkered flag, just two tenths of a second off the leader.
Similar conditions greeted the drivers for the Saturday morning qualifying session. Sedgwick posted a solid early lap time of 2:07.599, but as the session progressed, track conditions vastly changed, keeping him from improving his time and leaving him in third position on the race one starting grid. However, a fuel pickup issue late in the session made for a slower second-quickest lap, putting him P11 to start Sunday's season finale.
"I had a good first lap but struggled with a bit of traffic on the subsequent laps," said Sedgwick. "As the session progressed, more and more dirt was dragged onto the track as drivers went off, which made it quite slippery. All in all, pace is good and P3 will be a good starting point for race one."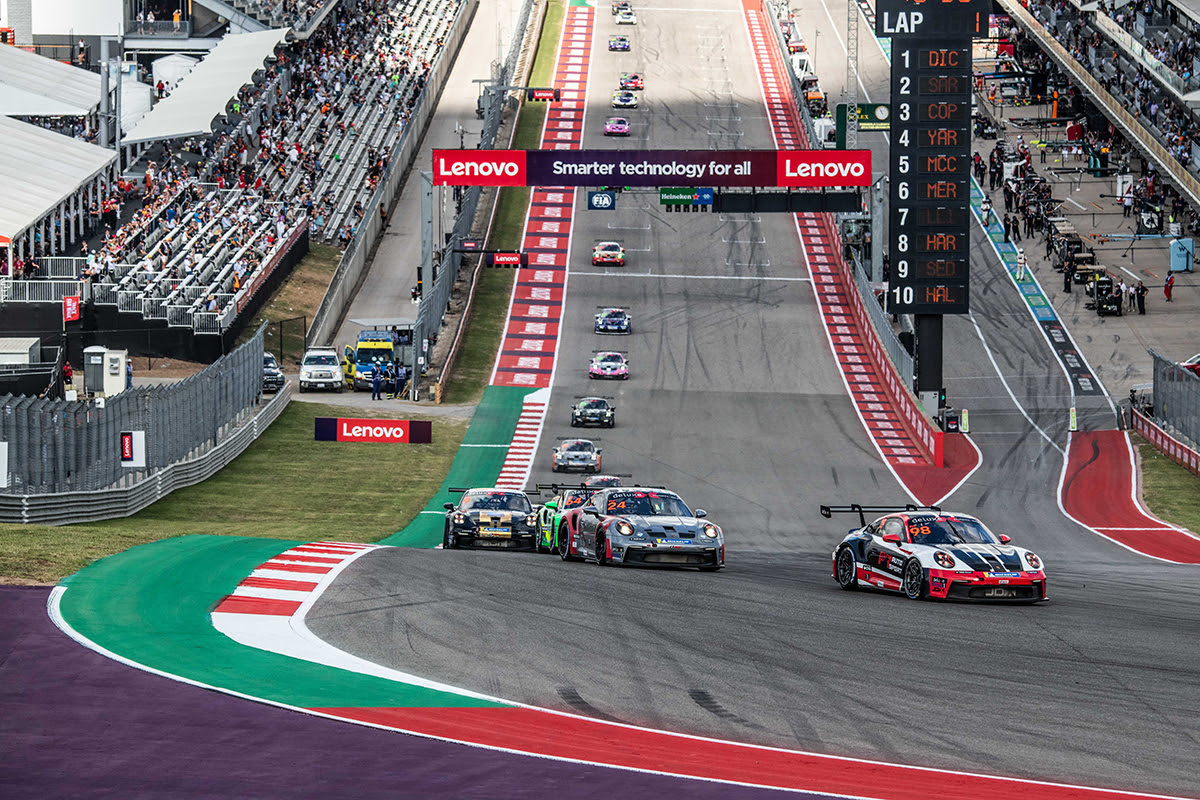 Ambient temps sat at a toasty 93 degrees as the race one green flag fell Saturday afternoon, with the interior of the race car peaking at an incredible 130℉. Sedgwick held his ground on the inside through turn one, maintaining third behind polesitter Tom Sargent and Riley Dickinson. On lap two, a car off in turn four brought out the race's only full course caution.
The race returned to green on lap five, with Sedgwick staying close to the two leaders while fending off the line of cars behind. He gained breathing room as the race continued, managing the gap well and holding third position at the checkered flag.
"It seemed like we had a pretty decent pace to start with, especially in the high-speed stuff. I could drive up to Sargent and I thought it looked good. But after the caution, the front just seemed to go off and I really struggled to get it turned so I'm happy to finish where we did."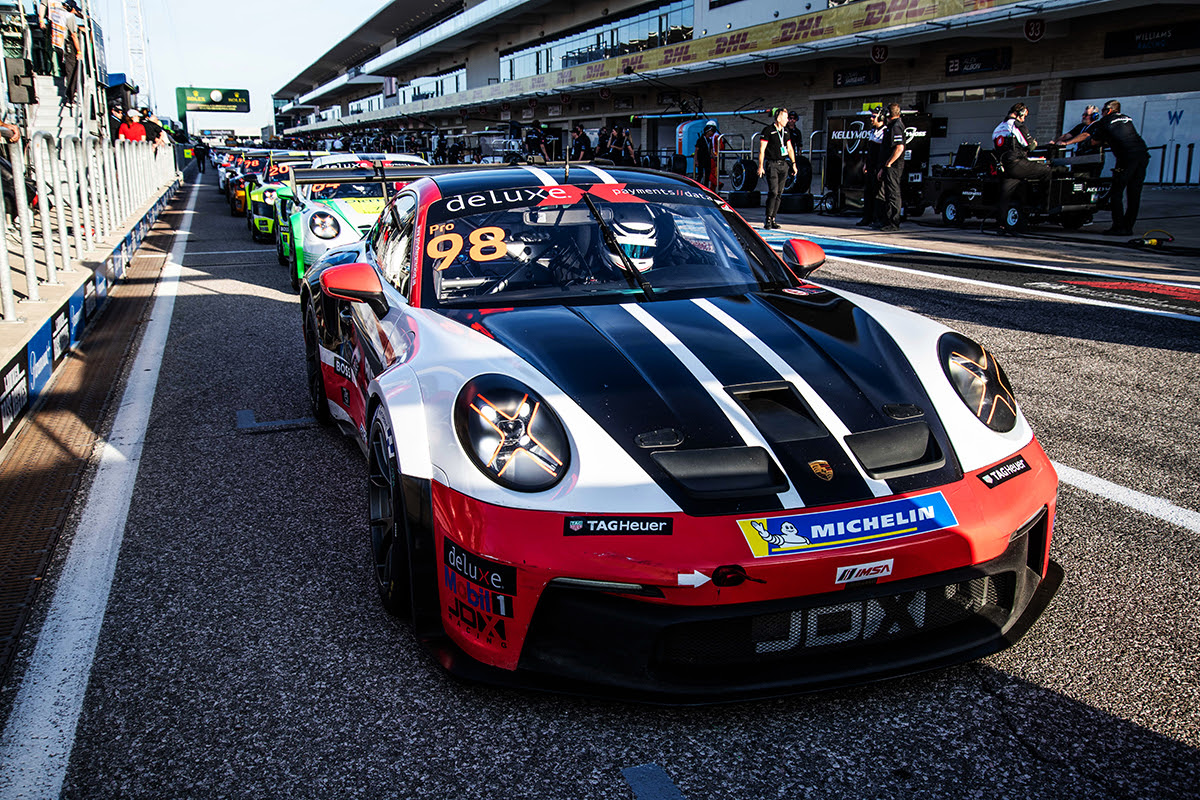 In Sunday morning's season finale, Sedgwick took the green on the inside in 11th position, staying on the gas as cars careened to the outside. Taking advantage of cars sliding off in the wide-open spaces, Sedgwick took ninth. By lap five, he'd captured seventh position before the caution flew for a car stopped on the front straight.
On the restart, JDX teammate Will Martin was able to pass Sedgwick, but as cars ahead slowed, the accordion effect caused the six cars ahead to hit nose to tail, with one of the cars spinning out in turn one. Sedgwick narrowly avoided the car to the outside, but his progress was halted by a second yellow flag.
The green flew with less than five minutes remaining – but again, cars ahead tangled, forcing Sedgwick to take evasive maneuvers. He came out of the melee in fourth and took the yellow and checkered flags to end his rookie season.
"We went pretty wild on car set-up just to see how it would work," said Sedgwick. "We were starting 11th anyway and we were solidly fourth in the championship so there was no downside to trying something. I think it was a bit too far, as I struggled a bit with the car just in different ways from yesterday. It's difficult to overtake in these cars at the best of times so 11th to fourth for the last race of the year, I'll take that."
Looking back on the season, Sedgwick was pleased with the team's first year in the series with Jeremy Dale's JDX Racing, the 2022 champions. "I never thought I'd be able to race full time or do this ever again. We've had our ups and downs but me, having been out of racing for a few years, then coming to such a competitive championship with a brand-new car, brand new tracks – I'm happy with where we've got to.
"I'm so thankful to PT Autosport and JDX for the support and for allowing me to do this. I hope that we're able to do this again next year."
PT Autosport team principal Jason Myers echoed Sedgwick's thoughts.
"I can't say enough about Alex's driving and how he's matured and progressed," said Myers. "What a great way to end the year – no real incidents, super clean and smart racing through some big moments. Coming away from COTA with a podium and a fourth place finish over the weekend, we couldn't really ask for more for our first year in Carrera Cup. We ended up helping JDX secure second place in the Team Championship with that finish, as well!
"We're happy with our fourth place finish in the championship standings and couldn't have done it without our racing partners JDX, Renier Construction, and Byers Imports," Myers continued. "While we haven't confirmed anything for 2024 quite yet, we do have some plans for off-season testing/racing, along with a few avenues of opportunity surrounding Alex and his path next season in 2024, as he will be racing somewhere. Stay tuned!"
PT Autosport would like to thank JDX Racing partners Byers/Porsche Columbus and Renier Construction.